The Rams pass-rushers have eight sacks through four games, and four of those sacks came in Week 4 against the Vikings — in the fourth quarter.
Although Rams sacks have come slow and in bunches so far in 2018, it's not for a lack of rushing effort led by defensive linemen Aaron Donald, Ndamukong Suh, and Michael Brockers.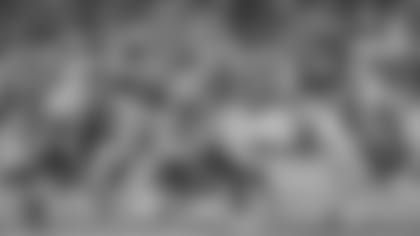 According to Chris Trapasso of the Buffalo News and Pro Football Focus' pressure rate statistics, the Rams pass-rushers have 65 quarterback pressures on 157 dropbacks through four games — good for a NFL best 41.4 percent pressure rate.
The Rams' pressure rate just edges the Eagles' 40 percent pressure rate, but from there no other team is close, with the third-best Steelers pressuring on 36 percent of dropbacks.
Four consecutive games of pressure led to an eruption of sacks in Week 4's fourth quarter, and the five-time Pro Bowler Suh knew it was only a matter of time.
"We have opportunities to make plays and we understand that if we continue to rush together, we are going to be very successful," Suh said. "That's what's expected of us and we have to continue to push and get that done."
Donald echoed his fellow D-linemen, saying "Anytime you've got a lot of playmakers around making big plays and putting us in positions to take over — we just got to keep going and keep working."