In partnership with 24 Hour Fitness, the official fitness partner of the Los Angeles Rams, the team hosted a 'Sideline Challenge' at their practice facility for participants to test their agility and skills while learning how to train like an NFL player.
Individuals of all ages engaged in various NFL Combine drills and stations on the team's practice field to emphasize the importance of fitness and promote a healthy, active lifestyle for individuals of all ages. Participants also had the special opportunity to learn from the Rams' Strength and Conditioning Staff.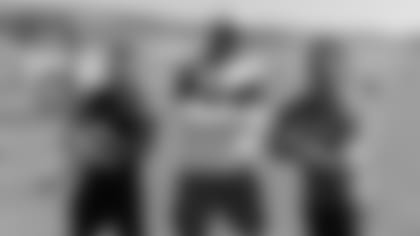 "They're all smiles and they're having a great time," said Rath. "They're getting to train where Todd Gurley trains, where Brandin Cooks trains, where Ndamukong Suh and Jared Goff train, all these guys. They get to do some of the same drills these guys do. I think it means the world to them and you can see that just by their facial expressions."
For Coach Rath, it was an opportunity to echo what he teaches the Rams players about the importance of a healthy body to individuals who were eager to learn how to do it in the proper ways.
"When you're physically active, the chemical response level on your body psychologically truly does make you a healthier and happier person," said Rath. "When you have that little energy boost, I think it means the world during daily activities. The most crucial thing you can do is take care of your body."
24 Hour Fitness Manager Phillip Mcdaniels believes opportunities such as the 'Sideline Challenge' can really shed light on what it takes to perform at the highest of levels athletically.
"This event gave fans an exclusive look inside the Rams Training Facility to experience the training regimen of a professional athlete," said Mcdaniels. "At 24 Hour Fitness, we are committed to helping our members live their best life, both inside and outside of our clubs. Thanks to our partnership with the Rams, we are able to provide these unique opportunities to inspire more members and fans."
Rams Long Snapper JAKE McQUAIDE also spent some time on the field interacting with participants. While many found it useful to receive guidance from a player's perspective, McQuaide believes giving back to his community is equally as impactful to him.
"It's just as important for them to see me as it is for me to see them. One hand washes the other. It's always fun to get out and see the fans," said McQuaide.
He later joked that Jared Goff might have some competition for his starting position after he witnessed some of the youth talent throw spirals through some target-nets.
"There was one little girl, she went 3-for-3 throwing into the net! A couple little guys, too," said McQuaide. "They're all having fun. Jared's in trouble. He's going to be looking over his shoulder…"
"The partnership with 24 Hour Fitness for the LA Rams is critical because when you look at what we're trying to do just as a community outreach program, we want our community to be healthy and active," said Coach Rath. "I think it's really critical to take care of your community and your community continues to take care of you and support you."
To view footage from the 'Sideline Challenge' with 24 Hour Fitness, please click here.
For more information about the Rams community outreach and fitness initiatives, please visit therams.com/community.