As part of the Los Angeles Rams year-round military appreciation efforts, the team is introducing a Salute to Service Week presented by _California Resources Corporation_ (CRC) with daily activities that will culminate with the game against the Seattle Seahawks on Veteran's Day, November 11. Throughout the week (Nov. 5-11), the Rams and CRC will partner with veteran service organizations and non-profits to support the military community and to honor, empower, and connect with service members, veterans and their families.
Each year, the NFL and its 32 teams come together to honor and support members of the military as part of the NFL's Salute to Service. The league's year-round military appreciation efforts culminate in November with Salute to Service games and other special events honoring veterans, active duty service members and their families. Since 2011, Salute to Service has raised more than $26 million for military and non-profit organizations. As an active community partner, CRC is joining forces with the Rams to support active duty military and veterans in recognition for their service to the country, in addition to being valued members of CRC's workforce.
Below are a list of events taking place during the Rams inaugural 'Salute to Service Week':
Monday, November 5 – Pros Vs. G.I. Joes
In partnership with Pros Vs. G.I. Joes, a program of the Joint Forces Initiative, a group of veterans will visit the Rams practice facility at Cal Lutheran to play video games with Rams rookies and active duty military members who are serving overseas.
Tuesday, November 6 - Holidays for Heroes Military Appreciation Campaign
As part of the Rams continued partnership with American Red Cross, Rams players, cheerleaders and staff will visit local elementary schools and engage the students in personalizing holiday cards of appreciation for active military members and veterans. Rams Defensive Linemen MICHAEL BROCKERS and AARON DONALD are featured on the holiday card that reads: 'Our defense defends our goal line. Our military defends our country. Thank you for your service.'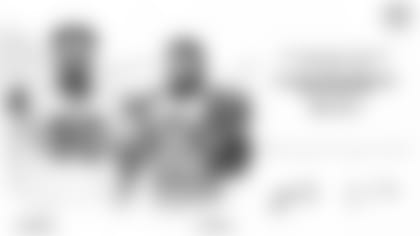 Wednesday, November 7 – PLAY 60 Event at USS Iowa Battleship
Thursday, November 8 – Veteran's Breakfast at US Vets
Rams legends ROSEY GRIER, HAROLD JACKSON and JOE SWEET will join members of the team's staff to volunteer at the US Vets – Inglewood annual Veteran's Day Breakfast. Volunteers will prepare and serve meals to 300 veterans, their families and community supporters.
Friday, November 9 – Veterans Build with Habitat for Humanity Los Angeles
The Rams will join Habitat for Humanity Los Angeles, US Vets and more than 200 volunteers to help veterans throughout greater Los Angeles with home improvements, increased access to services and more. The initiative will focus on providing exterior home repairs for veterans who reside at Century Villages at Cabrillo in Long Beach.
Saturday, November 10 – Veteran Workout with Andrew Whitworth & Merging Vets and Players (M.V.P)
Through the Rams continued partnership with Merging Vets and Players (M.V.P), the team is inviting a group of veterans out to their practice facility at Cal Lutheran to participate in a workout with Pro Bowl Tackle ANDREW WHITWORTH and additional Rams players. Following the workout, participants will engage in a group discussion about the transition from active duty to civilian life as well as life after football.
Saturday, November 10 – Tragedy Assistance Program for Survivors (TAPS) to Attend Private Practice
The Rams will continue their partnership with Tragedy Assistance Program for Survivors (TAPS) to honor and recognize fallen service men and women from the Los Angeles region who died while serving in the armed forces or from injuries sustained while serving in the post-9/11 era. The team will host the families of 22 fallen heroes at a private practice where they will have the chance to meet the players who will be wearing their family member's initials on their helmet during the Salute to Service game. Following practice, the families will be treated to lunch at Mariasol on the Santa Monica Pier and will have the opportunity to share stories about their fallen heroes.
The families will be guests of the Rams at Sunday's game and recognized on the field during a halftime ceremony.
Additionally, the Rams will surprise an outstanding TAPS volunteer at the end of practice as a Rams Community Quarterback Award winner. As part of the honor, the Rams will make a $10,000 donation in his name to TAPS. They also will be recognized on the field prior to the Salute to Service game.
Additional details about how the Rams are celebrating the military at Sunday's Salute to Service game against the Seattle Seahawks:
The Rams will host a mass enlistment ceremony during pregame.
Offensive starters and Rams Defensive Lineman MICHAEL BROCKERS will carry out American flags as they run onto the field during player introductions.
Active duty service members from multiple military branches will line up on the sideline during the performance of the National Anthem, which will be performed by a U.S. Marine Corps veteran and Purple Heart recipient.
Veterans will join cast members of CBS' television show "Seal Team" to light the torch prior to kickoff.
In both the first and second half, the Rams will recognize military heroes with in-game 'Military Salutes.'
The Rams will recognize the 100th anniversary of the end of The Great War by honoring Jim Davies, the last surviving member of his WWII platoon that fought in North Africa, Italy, France and Germany.
About the Los Angeles Rams
The Los Angeles Rams – Los Angeles' original professional sports team – stand as one of the oldest franchises in the National Football League and since its founding in 1937, have garnered three World Championships and sent 30 of its members to the Pro Football Hall of Fame. In 2017, the Los Angeles Rams clinched the NFC West title and hosted the NFL's first Playoff game in Southern California in 30 years. As a professional sports team, the organization is committed to being a valuable civic partner and serving the greater Los Angeles area 365 days a year. The team currently hosts games at the Los Angeles Memorial Coliseum, with plans to move to a new world-class stadium at the Los Angeles Stadium and Entertainment District at Hollywood Park, currently under construction in Inglewood, California, for the 2020 NFL season. For more information visit www.therams.com and follow the Rams' social media channels.
About California Resources Corporation
California Resources Corporation (CRC) is the largest oil and natural gas exploration and production company in California on a gross-operated basis. The Company operates its world-class resource base exclusively within the State of California, applying complementary and integrated infrastructure to gather, process and market its production. Using advanced technology, CRC focuses on safely and responsibly supplying affordable energy for California by Californians.