Following a thrilling 20-13 win over the Browns on Sunday Night Football, the Rams now turn their attention to their Week 4 home game against the Tampa Bay Buccaneers.
Sunday's game marks the first meeting between the Buccaneers and the Rams since 2016, when Los Angeles defeated Tampa Bay 37-32 in Tampa. It will also be the Buccaneers' first game against the Rams at Los Angeles Memorial Coliseum since November 5, 1978, according to Pro Football Reference.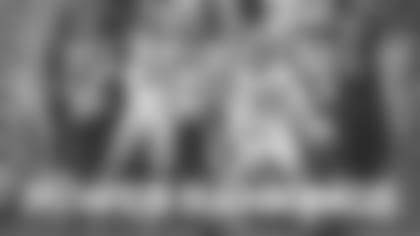 Every week, TheRams.com will be taking an aggregate look at where the team ranks in different outlets across the sports media landscape. Here are the power rankings for the Rams heading into Week 4:
"A great performance by the Rams' defense on Sunday night in Cleveland. The high moment came in the final minute, with L.A. leading by seven and the Browns set up with first-and-goal. Four plays, four passes, three incompletions and a game-icing interception by John Johnson. Browns superstar Odell Beckham Jr. didn't even have a target on that final set of downs, which is both a credit to theRams' scheme and an indictment of Browns play-caller Freddie Kitchens. On the other side of the ball, Brandin Cooks and Cooper Kupp both went over 100 yards, but it was another mostly uneven performance by the Rams. Jared Goff, in particular, continues to look out of sorts. He had three turnovers in the game, including a killer fourth-quarter interception that gave the Browns life. The Rams aren't fully clicking ... but they're winning as they figure it out. It's the sign of a championship-caliber team."
"The Rams are one of the more enigmatic front-runners in the NFL. Last year's offensive juggernaut has given way to a much less explosive scheme. In Sunday's win over the Cleveland Browns, the Rams ran for just 90 yards on 24 carries and Jared Goff had an up-and-down game throwing the ball that included a pair of interceptions.
"But Los Angeles also keeps right on winning—mostly because of Aaron Donald and the defense."
"While the Rams' offense isn't blowing the bloody doors off, the D is proving to be one of the league's toughest. Eric Weddle and Clay Matthews have been valuable additions."
"They are cruising along with a 3-0 record as they have the look of a potential Super Bowl team again. The defense is even better than a year ago."
"The offense wasn't all that crisp Sunday night in Cleveland, and QB Jared Goff had three turnovers. But Coach Sean McVay made the proper halftime adjustments and the Rams showed they're a well-established contender that simply knows how to win."
THIS WEEK'S OPPONENT'S RANKS — THE TAMPA BAY BUCCANEERS