CLEVELAND - With a celebration for father Clay Jr.'s induction into the Browns Ring of Honor at halftime, it would be understandable if emotions got the best of Rams LB Clay Matthews III given what Sunday meant to his family.
Though Clay III was happy for his dad, he also made sure remained focused on helping his team come away with the road win.
"Oh no, I was cool," Clay III said when asked if it was tough to keep his emotions in check. "I was pulling for the Rams."
Setting feelings aside, Clay III kept helped Los Angeles keep the pressure on Cleveland QB Baker Mayfield all night.
He added three total tackles and a team-best two QB hits to his stat line as the Rams sacked Mayfield three times. Clay III's second sack of the night made the greatest impact, taking Mayfield down for an 8-yard loss that pinned the Browns to their own 2-yard line on their second-to-last series of the contest.
An earlier tackle for loss and forced fumble, though recovered by Cleveland, stalled it just enough that it was forced to punt. Combined with the ensuing poor kick by Browns punter Jamie Gillan that set the Rams up at their own 28, it contributed to giving Los Angeles a chance to score the go-ahead touchdown early in the fourth quarter.
"Hopefully he'll give his (sister) some crap for pumping up the Browns fans with her (brother) on other sideline," Rams head coach Sean McVay joked postgame.
The Rams trailed 6-3 at halftime, so there wasn't going to be time for Matthews to come out of the locker room early to catch his father's speech at intermission.
However, he still managed to see the tail end of it by the time he did return to the field prior to the start of the second half, running up to the podium to give his father a big bug before rejoining his L.A. teammates on the sideline.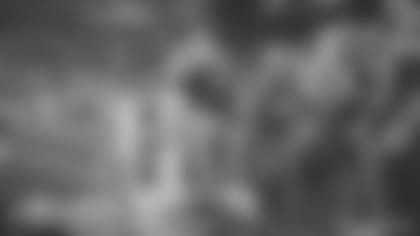 "It was awesome to see," the younger Matthews said. "I think it was a pretty fun event this weekend for the Matthews family. Of course, I wasn't able to take part in it, but to be out there and see his name put along some of Cleveland's all-time greats, it was pretty remarkable to see."
In addition to the city rewarding Clay Jr.'s contributions across 16 seasons in a Browns uniform, Clay III also expressed appreciation for how his dad persevered to play 19 seasons in the NFL. Clay III is currently in his 11th NFL season, so it seems he paid close attention to how Clay Jr. carried himself during his pro career.
While he may not have had any sentimental feelings during the game, it's evident he certainly did afterward. As he got dressed for his postgame media session, he put on a throwback Browns jersey of his dad's in a fitting tribute.
"I'm excited to see him. I'm excited to see his speech, which obviously I didn't get to see," Clay III said. "I get to go see about 20 of them right now and I'm looking forward to it."