The Rams wrapped up the preseason last Thursday in New Orleans and are in preparation for their meeting with Oakland in Week 1. The Rams will play on Monday Night Football for the first time since 2016, and are searching for their first Monday night victory since 2004.
Monday will also mark the much-anticipated debut of head coach Sean McVay's newly decorated roster — with the additions of wide receiver Brandin Cooks, defensive tackle Ndamukong Suh, and corners Aqib Talib and Marcus Peters.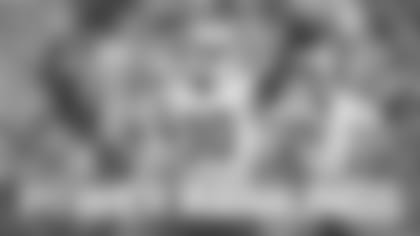 Every week, TheRams.com will be taking an aggregate look at where the team ranks in different outlets across the sports media landscape. Here are the power rankings for the Rams heading into Week 1:
"With the news that Aaron Donald and team brass finalized a long-term contract extension, Los Angeles became the top threat to ruin Doug Pederson's Super Bowl reunion tour. Donald could be a smidge rusty, but there is nothing rustic about these Rams. They're young! The lack of experience only highlights the fact we saw no highlights from any of their burgeoning stars this preseason. A little work would've been nice for Jared Goff, who took a major step forward last year. Can he repeat the results of a prolific sophomore campaign with no warm-up? We'll all find out together Monday night in Oakland."
"The Rams had one of the biggest offensive turnarounds in NFL history last season. This offseason the Rams are adding 12 Pro Bowls between Ndamukong Suh, Marcus Peters and Aqib Talib to a defense that already featured the 2017 Defensive Player of the Year, Aaron Donald."
"I don't mind the strategy of sitting practically everyone in August to avoid injuries, as Sean McVay did with the Rams. Whatever you lose by not getting game reps in preseason, you'd lose even more if Todd Gurley went down with an injury. McVay will be second guessed if the Rams start the season slow, but the approach makes sense."
"Donald's holdout was the lone dark cloud hanging over a team that was all sunshine over the past several months. The Rams have assembled a veritable "dream team" after acquiring a fistful of veteran stars either in free agency or via trade.
A Rams offense that already led the NFL in scoring in 2017 added a proven No. 1 receiver in Brandin Cooks. The defense added two veteran cornerbacks (Aqib Talib and Marcus Peters) and brought in Ndamukong Suh to pair with Donald up front.
The Rams are stacked. Loaded. Brimming with talent on both sides of the ball.
If they play to their potential (or close to it), they will be very difficult to beat."
"Early to worry (much) about Aaron Donald given last year's holdout didn't ultimately hurt. Still, lot of moving parts on revamped defense."
"They made a lot of big moves this offseason and spent a lot of money, giving off the idea they are going for it this season. That's a lot of pressure."
THIS WEEK'S OPPONENT'S RANKS — THE OAKLAND RAIDERS