On Sunday, the Rams suffered their first loss of the season in a hostile Mercedes-Benz Superdome, electrified by New Orleans wideout Michael Thomas, who posted a franchise-record 211 yards receiving.
The Rams (8-1) will now look to bounce back from the 45-35 loss in New Orleans, taking on the Seahawks and quarterback Russell Wilson in Week 10 back home in the L.A. Coliseum.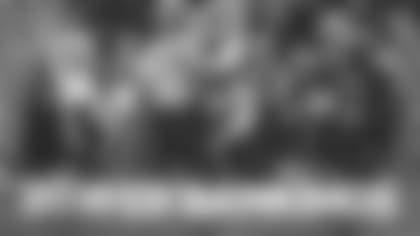 Every week,TheRams.com will be taking an aggregate look at where the team ranks in different outlets across the sports media landscape. Here are the power rankings for the Rams heading into Week 10:
"The last of the undefeated fell. Was it bound to happen? Sure. Was the loss concerning? Yes. The Rams' defense has now given up 27-plus points in four of their last six games, including 45 on Sunday. And don't forget that they were also bailed out by the eccentric ways of Ty Montgomery last week. The absence of injured cornerback Aqib Talib affects Wade Phillips' group more than any L.A. fan might want to admit."
"The Rams were expected to have a big season after they added three All-Pros in Aqib Talib, Marcus Peters and Ndamukong Suh on defense, and the offense added speedy receiver Brandin Cooks. At 8-1, it's safe to say the Rams have exceeded expectations, especially on offense. Todd Gurley II is making a strong case for MVP, as he leads the league in rushing yards and touchdowns, and the addition of Cooks has provided a consistent deep-ball threat for Jared Goff."
"It's tough to put the Rams at No. 3. I wouldn't fault anyone for putting them at No. 1. But I am very impressed with the Saints since Week 5, and although they let the Rams back in Sunday's game, they still did lead Los Angeles by 21 in the first half and won by 10. That has to factor in."
"The last of the NFL's undefeated teams fell Sunday, as the Rams lost a wildly entertaining affair with the Saints by 10. There's no shame in losing to the Saints in the Superdome—beating Drew Brees in his house is no easy task. And the Rams made a game of it after falling behind early. But it also wasn't surprising to see them drop this game. In recent weeks, the Rams had been less dominant and more fortunate, winning three of their last four by a field goal or less."
"After getting roasted by Drew Brees, CB Marcus Peters was summarily roasted on social media. Aqib Talib's return will be important waypoint."
"Defense wins championships. Which will make it harder for the Rams to win a championship."
"The Rams' five-week run at the top is over. They still might be the best team in football, despite losing a shootout in New Orleans, but of course they have to take a hit here."
THIS WEEK'S OPPONENT'S RANKS — SEATTLE SEAHAWKS