The Rams bounced back from their Week 9, first loss of the season to the Saints with a 36-31 victory over the Seattle Seahawks in Week 10. Despite allowing 273 yards rushing against the Seahawks, Los Angeles came up with a few key stops and were able to sweep its division rival.
Back in the win column, the Rams (9-1) will now look ahead to the AFC West-leading Kansas City Chiefs. The two one-loss clubs are set to face off next Monday in Mexico City on ESPN's Monday Night Football.   
Every week,TheRams.com will be taking an aggregate look at where the team ranks in different outlets across the sports media landscape. Here are the power rankings for the Rams heading into Week 11: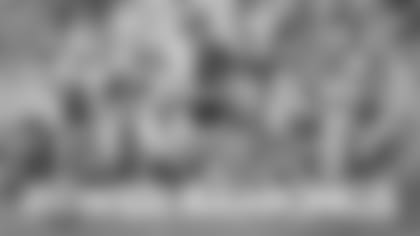 "An exciting win came with the proverbial rain cloud, as Cooper Kupp was lost for the season. The sophomore wideout made more strides this season, and had just returned from a knee problem a few weeks ago. His loss will be felt. Sunday felt too close for comfort against the rival Seahawks (again), but ultimately, two timely defensive plays made the difference: Ndamukong Suh's and Aaron Donald's split sack on third-and-5 near the Rams' goal line, forcing a Seattle field goal; and Dante Fowler Jr.'s strip-sack/recovery to set up Brandin Cooks' score late in the fourth quarter. Of course, other than those two stanzas, Wade Phillips' defense got ripped again."
"Defining stat: 122. That's the average number of rushing yards the Rams have allowed this season, which ranks 24th in the NFL. The Rams vowed to play better against the run after a Week 5 victory at Seattle in which the Seahawks rushed for 190 yards. But the Rams allowed the Saints to rush for 141 yards in Week 9, and then gave up a whopping 273 yards to the Seahawks on Sunday. It begs the question how a front that features Aaron Donald, Ndamukong Suh and Michael Brockers has been unable to slow the run."
"Cooper Kupp's ACL injury is a big blow. The Rams average 124 fewer passing yards per game without Kupp this season. Los Angeles has a lot of good players but they'll miss Kupp. It's hard to replace what he can do."
"Yes, the Seahawks gave the Rams all they could handle. That's to be expected in a division game. But the combination of Todd Gurley (160 total yards) and Jared Goff (318 passing yards) on offense and Aaron Donald (2.5 sacks) on defense was just too much for Seattle—as it's been for most of L.A.'s foes this year."
"O-line unfairly overshadowed amid pyrotechnics. Let's hope LT Andrew Whitworth's donation to Borderline Bar and Grill victims gets just due."
"Sean McVay should get coach of the year votes simply for emerging with a win after one of the toughest weeks any team will face."
THIS WEEK'S OPPONENT'S RANKS — KANSAS CITY CHIEFS