The Rams are back in the win column entering the season's final test against the San Francisco 49ers in L.A.
With a win, Los Angeles will clinch a first-round playoff bye and sweep the NFC West for the first time since the NFL moved to eight divisions of four teams in 2002.
Every week,TheRams.com will be taking an aggregate look at where the team ranks in different outlets across the sports media landscape. Here are the power rankings for the Rams heading into Week 17: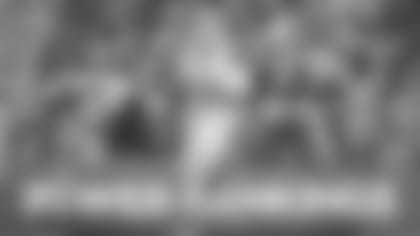 "Following a Jared Goff fumble midway through the first quarter in Arizona, it looked as though it would be same-old Sally for the Rams and their quarterback. Goff slumped his way through December, but not against the Cardinals. The third-year quarterback fired up the September-November Goff machine, while Sean McVay's play-calling was on-point. Los Angeles did not eschew the run, even in the absence of superstar Todd Gurley, calling on C.J. Anderson time and again. The vet responded by bulldozing tacklers, and when he wasn't doing that, Goff took advantage of a run-weary defense to hit Robert Woods and a gaggle of other receivers with his patented intermediate deliveries."
"Non-QB MVP: Between RB Todd Gurley II and DT Aaron Donald, it's difficult to choose one. Gurley leads the NFL with 21 touchdowns and ranks second in rushing with 89.4 yards per game. Donald has set the single-season sack record for a defensive tackle with 19.5 and has a shot at Michael Strahan's single-season sack record of 22.5 in the team's regular-season finale against the 49ers. Gurley and Donald for non-QB co-MVPs."
"Aaron Donald's three-sack day set a record for sacks in a season by a defensive tackle, which was previously set by Keith Millard in 1989. It's almost unfathomable to think a defensive tackle could get 20 sacks, much less make a run at Michael Strahan's single-season record of 22.5, but Donald has a shot."
"That the Rams cruised past the Redbirds even without tailback Todd Gurley to keep hold of the No. 2 seed in the NFC playoffs isn't surprising. The fact that L.A. did so while getting 167 rushing yards from the recently signed C.J. Anderson was."
"C.J. Anderson rushed for 167 yards in debut after posting 104 in nine games with Carolina. His revitalization means valuable rest for Todd Gurley."
"The fact that such a flawed franchise has climbed back to No. 2 illustrates how muddled the top of the stack currently is, other than at No. 1."
THIS WEEK'S OPPONENT'S RANKS — SAN FRANCISCO 49ers