On Sunday, the Rams improved to a perfect 6-0 to start the season for the first time since 2001. The Rams defeated the Broncos 23-20, thanks to a career-day by running back Todd Gurley. Gurley rushed for 208 yards on 28 carries, with two touchdowns in Denver.
The Rams will now look to improve to 7-0 in their third divisional game of the season against the San Francisco 49ers.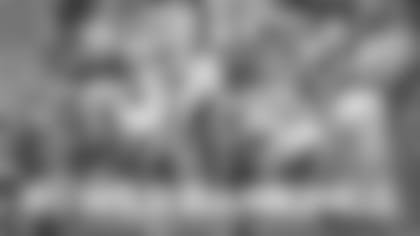 Every week,TheRams.com will be taking an aggregate look at where the team ranks in different outlets across the sports media landscape. Here are the power rankings for the Rams heading into Week 7:
"Jared Goff finally appeared mortal this season, and it didn't matter. Not when his tailback scootered his way to the second level of the defense consistently in Denver. Gurley padded an already-impressive season tally with 208 yards rushing and two touchdowns, pushing the Rams to a 6-0 start. Loved the locker room video after the game, with Sean McVay handing the football to defensive coordinator Wade Phillips. You can watch that here. Bet you @SonOfBum enjoyed that sucker immensely. Bet you the Broncos wouldn't have sniffed Super Bowl 50 without him. Truth."
Playoff chances: 99.7 percent. No team has a higher chance to make the playoffs than the unbeaten Rams. While a lot of the attention goes to Jared Goff, Todd Gurley and the Rams' skill players, L.A.'s offensive line has been exceptional this season. The Rams have the highest pass block win rate, according to ESPN's pass block metric powered by NFL Next Gen Stats, and lead the league by a wide margin. -- Sopan Shah
"I still can't believe Cooper Kupp was OK after being carted off following that horse-collar tackle. I thought he was done for a couple months at least. It turns out Kupp sprained his MCL, and the Rams are lucky he didn't make it worse playing in the second half. It seems like a really poor decision to let him play the second half."
"Great teams find a way to win when they aren't playing their best. The Rams did that in Week 6—on the road, no less. There's no question who the NFL's best team is right now."
"Now we know they own all-weather offense. But they'll hardly need it in playoffs, where they'll be playing in L.A., New Orleans and/or Atlanta."
"The Greatest Shows-offs on Turf 2.0 finally were held under 30 points."
"The Rams are now the only perfect team left, so a no-brainer to stay on top of the rankings. They remain No. 1, and this week it's unanimous."
THIS WEEK'S OPPONENT'S RANKS — SAN FRANCISCO 49ers