NEW ORLEANS — Twenty-one-point comebacks are unusual in the NFL.
Did the Rams accomplish one on Sunday? No. But they did come back from being down 35-14 in the second quarter to even the Week 9 matchup early in the fourth quarter.
And yes, Los Angeles lost 45-35 after New Orleans scored 10 unanswered points to close the matchup. But perhaps there's something to take out of the fact that L.A. was able to stay the course in a hostile environment to keep the contest competitive throughout.
"I think it shows us a lot about who we are. You see guys get down like that and they just quit," safety Lamarcus Joyner said. "[W]e came out, we fought our butts off. Bottom line — we didn't get it done in the end."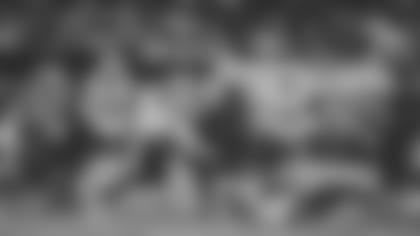 One of the many mantras head coach Sean McVay often says is, "Nobody flinch, nobody blink." It's part of the Rams' philosophy about facing adversity.
McVay said it again in his postgame press conference on Sunday, when discussion how the team responded to getting down by 21 points late in the second quarter.
"All you can do is take it one play at a time, and things change quickly," McVay said. "Defense had a couple stops, offensively we were able to get into a little bit of a rhythm and finish up drives with touchdowns. You know, to our players' credit, they just keep fighting the battle.
"They don't flinch, they don't blink."
It started with quarterback Jared Goff leading the offense to field-goal range, and kicker Greg Zuerlein responding well after missing a 51-yard field goal earlier in the half to nail a 56-yard try as time expired in the second quarter. L.A. faced adversity even on that drive that began with just 26 seconds left in the half, overcoming a 15-yard unsportsmanlike conduct penalty to get in Zuerlein's range.
It was a significant score, cutting the deficit to 18 after the first 30 minutes.
So what happened at halftime to get L.A. ready for the comeback effort?
"I honestly felt like we just needed to settle in and play," left tackle Andrew Whitworth said. "And really, didn't change a thing. Just did our deal."
"We were confident," safety John Johnson said. "We treat it like a 16-round fight, like a boxing match. You're going to get hit, but it's about how you bounce back and you saw we came back, tied it up, but just couldn't finish."
The offense got things going with an 11-play drive, as running back Malcolm Brown scored a touchdown on a terrific 18-yard reception — somehow keeping his feet in bounds even after getting hit close to the sideline.
Then Los Angeles forced its first punt of the day, getting quarterback Drew Brees and the Saints offense off the field by tackling running back Melvin Ingram four yards short of the sticks.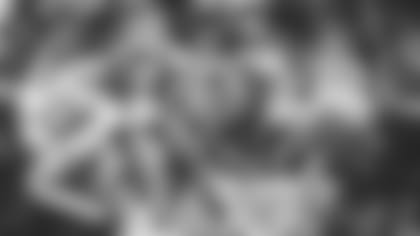 The offense once again got the ball down the field, but this time stalled once reaching the New Orleans 22. Zuerlein nailed a 34 yarder, and the Rams were down by eight.
They tied it early in the fourth quarter after another New Orleans punt, with Goff hitting wideout Cooper Kupp on the left side of the field on 3rd-and-1 and Kupp outrunning the Saints defense for his sixth touchdown of the season. Tight end Gerald Everett then got in the box for a two-point conversion on a short tight end screen to the left — diving in to break the plane.
It was a strong display from an entire team perspective just to keep the matchup competitive. According to Johnson, the defense was able to get stops because the unit started executing at a much higher level.
"Just the focus, I think," Johnson said. "I don't think it was anything schematically. I just think it was more focus, and understanding that we were down and have a chance to win this game if we get stops."
"I think it was just the ability to limit big plays, be efficient on the early downs, and get some third-down stops," McVay said. "We were able to sustain some drive offensively, had a couple critical stops, got them in some negative situations in some of the early-down distances, and limited the big plays for a few series there."
Ultimately, Los Angeles was unable to finish the job in New Orleans — with Brees' 72-yard touchdown to wide receiver Michael Thomas effectively taking the Rams out of the game late in the fourth quarter.
But there is something to be said for the fight-back L.A. displayed throughout the contest.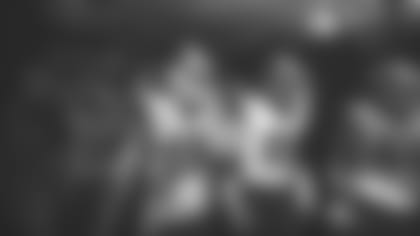 "I learned that we are fighters," Johnson said. "A guy like [Brees], he doesn't miss all season, he doesn't really throw incompletions. You just can't get frustrated. We had a few little back-and-forths on the sidelines, but that's regular. I just learned that we are fighters."
"I think it's one of those things where it's going to happen in this league — you go on the road against a great football team and have a bad half," Whitworth said. "What doesn't usually happen is to have it happen in the first half and then you get in the second half. You could tell, the energy and things changed in that building. They were able to come up with a big play. But, they definitely felt us, and we definitely made an impact in the second half. So, that's something that is a special team — to be able to do that. We've just got to find a way to win."
The Rams will come back home to face the Seahawks next week. And though it's the team's first L of the season, L.A. is looking forward to learning from its mistakes and getting back to business in Week 10.
"Everybody's got to be humbled and this was our day," running back Todd Gurley said, adding, "We'll be fine. Back to work tomorrow. Same process, same thing. We know how it feels to lose. So we've got a tough game next week, a big one for us — NFC game, Seattle. Just got done playing those guys a couple weeks ago. So, we're excited, we're looking forward to it."
"You find out about yourself when you have a little adversity and I know that everybody in that locker room is going to respond the right way," McVay said. "I have full confidence in that. Sometimes setbacks can be setups for comebacks, and that's the way that we look at it. I think the motivation and desire to be able to move forward in a positive way is something that we challenge everybody in that building and our building to be able to do and I can't wait to go back to work, get ready to go for a tough Seattle team, and being back at home."
"It's a setback, but we are going to respond the right way — I have full confidence in that with our coaches and our players."