In the not-so-distant past, Sam Shields was one of the most effective cornerbacks in the league. 
Even as a rookie, Shields was a key piece of Green Bay's defense as the club won Super Bowl XLV. And he recorded at least two interceptions in his first six seasons as a pro for the Packers for a total of 18.
After taking 2017 off following a concussion suffered in Week 1 of 2016 that kept him out for the entire season, Shields has been on the field and effective throughout OTAs, training camp, and preseason games. He's often shown how effective he can be as a cover corner with his considerable speed, becoming one of the players whose presence the offense can likely feel.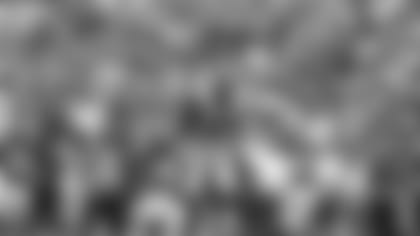 As well as he's performed in practice, it was fitting that he recorded an interception during Los Angeles' victory over Houston in preseason Week 3. 
The pick came late in the first quarter with the Texans backed up deep in their own territory. On 2nd-and-8, Shields perfectly read an in-breaking route by wide receiver Sammie Coates coming from the defense's right, jumping in front of the receiver to make the pick off quarterback Brandon Weeden. Shields ran across the field to the left, and ended up going out of bounds with a 13-yard return. 
Shields credited Los Angeles cornerbacks coach Aubrey Pleasant for his effectiveness as a player in that situation. 
"Just the route recognition, things that coach Aubrey teaches us. I'm seeing it," Shields said. "And when you see things, you have to take advantage of it. And that's what happened." 
More than that, Shields' teammates saw and took note of the interception — which was Shields' first since Dec. 13, 2015 when he picked off then-Cowboys quarterback Matt Cassel. A mob of Rams greeted Shields on the sideline after his pick, an acknowledgment of the adversity that Shields has faced and overcome over the last couple of years.
"Oh, it's family, as you can see," Shields said. "When things happen in the game like that interception, or any turnover — each side of the ball, we love it. As you can see, you saw that. So that's going to make us better." 
Similar to the team's reaction after the pick, head coach Sean McVay expressed how nice it was to see Shields make a big play in a significant situation. Although, he did razz Shields for one part of the interception return. 
"You look at the perseverance he's demonstrated to be able to miss football for a couple years, come back — unbelievable athleticism," McVay said. "You see the great ball skills, former receiver. I told him his ball security was pretty poor on that play, good thing he just went out of bounds. But it was exciting to see that."
Shields admitted it's taken a while for him to feel like he's truly "back" as an NFL player. He said he's done his best to take things day-by-day, also knowing he'd have to contribute on special teams to make the team.
That's why a game like Shields had against Houston means a lot to him.
"It gave me a lot of confidence," Shields said. "I've been taking it one day at a time. I've been feeling great every day. So I just can't explain it, but it's been great for me." 
"Sam's been a guy that's consistently made plays," McVay said. "We've talked about a lot of the big-time acquisitions that we've made — I think people seem to forget what a good player Sam Shields has been in this league, too, going into his eighth season. And really happy for him, and encouraged with just the development and progress that he's made throughout."