Rookie defensive lineman John Franklin-Myers has been impressing those around him throughout the 2018 preseason. Arriving as a 6-foot-4, 288-pound defensive lineman out of Stephen F. Austin, Franklin-Myers clearly had raw skill during the offseason program. But now that pads have come on, he's clearly taken steps to improve. 
"He's done a really good job," head coach Sean McVay said this week. "I think you're seeing a guy that's got a natural rush ability. We've talked about it, from the very early stages of him being here, he was a guy that kind of showed up. He was always in the backfield disrupting things, especially in those passing situations."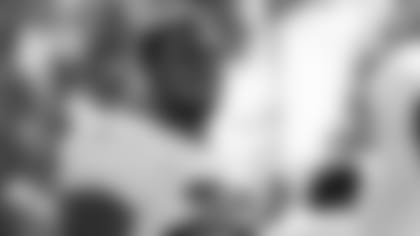 McVay noted that Franklin-Myers was particularly disruptive in the red zone, where he did well with a few coverage responsibilities. 
"Been really impressed with John. He's handling things really well," McVay said, complimenting defensive line coach Bill Johnson and defensive coordinator Wade Phillips for the way they've trained and utilized Franklin-Myers. "We're happy with him right now." 
We at therams.com caught up with Franklin-Myers after a recent training camp practice to discus his progress, the veterans helping him on the defensive line, and more.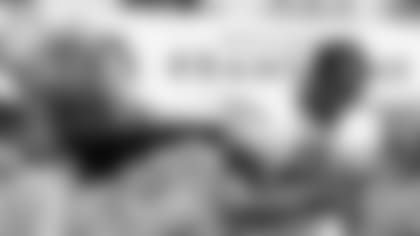 SIX QUESTIONS WITH JOHN FRANKLIN-MYERS
Myles Simmons: It seems like you've been making progress on the field. How has camp gone for you?
John Franklin-Myers: It's going good, learning a lot. Getting a chance to work with 'Brock' [Michael Brockers], and [Ndamukong] Suh, Ethan Westbrooks. A lot of those guys, they have so much to teach you, and you can learn so much from those guys. So that's what I'm in the process of doing, is just learning each and every day. 
MS: It seems like your technique is getting better. Are you feeling more comfortable?
JFM: Yeah, a lot more comfortable. That's how it is — after OTAs, OTAs is hard. Coming from SFA, it's just so much more complex. And then to get a chance to go out here again for fall camp, and the game is a lot faster, and it actually moves slower for you in the same sense because you know what you're doing and you get to play your game. So I feel comfortable now. It's a lot better.
MS: Did it also help to finally put pads on?
JFM: It did because a lot of my game is power. So without pads, it's kind of all finesse. I set up a lot of my game of of power, so when the pads came on then I was able to become myself. And I stopped getting in trouble for the little things without pads — because you can correct a lot of things without pads, but it's not the same as when you put pads on.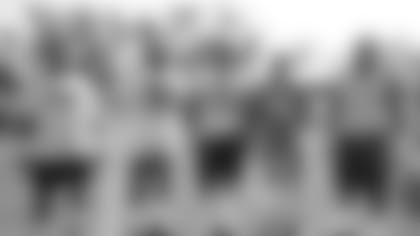 MS: What feedback have you been getting from defensive line coach Bill Johnson and defensive coordinator Wade Phillips?
JFM: Really just how to correct my rush. They see me as an edge rusher and as a four-technique. And I can keep my feet in the ground a little longer on run downs, and on pass downs, just try to consistently keep my hips towards the quarterback and towards the protector. So that's what I'm focused on now. And that's what I've learned a lot from even Suh. Suh isn't even an edge rusher and he's taught me so much in the last two weeks — how to pass rush out of the edge position.
MS: Yeah, I saw the two of you talking on the sideline during practice. What does it mean to you to have a veteran willing to do that?
JFM: It means a lot because those guys don't have to do it. And you've seen 'Brock' — we just got a D-end here yesterday [UDFA Lord Hyeamang] and Brock is taking him before practice and having him walk thru all the stuff, teaching him the zero step that we teach, what coach teaches us. So you see that and you're like, these guys are top-of-the-line, first class. It's great, I love it. And as a rookie, that's all you can ask for — is for guys who want to teach you and guys you can learn from. 
MS: I know they held you out last week against Baltimore. Are you looking forward to finally playing?
JFM: Oh yeah, I'm playing this week for sure. I'm ready to just go out there and work, and prove myself.