If defensive tackle Ndamukong Suh has a checklist of football accomplishments, several boxes are checked.
Suh has been one of the most talked-about defensive players in the NFL since he was drafted second overall by Detroit in 2010. Approaching his ninth season, Suh's success over five seasons with Detroit and then three in Miami warrants conversation.
Following a unanimous All-American selection at Nebraska, Suh exploded into the league in 2010, winning AP Defensive Rookie of the Year. From there, Suh has become a five-time Pro-Bowler and three-time first-team All-Pro.
Ahead of his first season with the Rams, and the next chapter of his dominant career, Suh was not ashamed to mention his ultimate individual aspiration: becoming a Hall of Famer.
"There's no question I want a gold jacket, I'm not going to sit here and lie to you — that's an ultimate goal," Suh said on the set of 'Rams Camp Live' following his first training camp practice.
There's also no question that Suh's presence has been felt around the league, as he's build an impressive resume over the course of his career. He's recorded 51.5 sacks and has demanded the attention of offensive minds with his combination of tenacity and ability.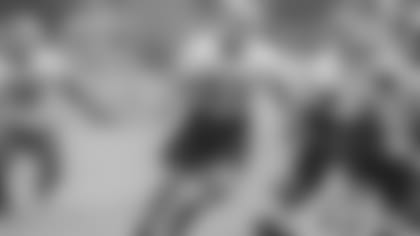 Suh is first to admit that despite successes over the years, he's missing a major qualifier to one day wear gold in Canton, Ohio.
"But first and foremost I want to win," Suh continued. "The only way to get that gold jacket is to be a winner."
Suh elaborated, saying a deep playoff run has been absent from his career in both Detroit and Miami.
Queue the offseason move to Hollywood.
Suh has taken to the record, citing several reasons he selected L.A. following his time with the Dolphins, which featured one playoff appearance in 2016, in which Suh and Co. were bounced in the AFC Wild Card game against the Steelers.
His reasons include: joining former strength coach Ted Rath, moving closer to his family, playing under defensive coordinator Wade Phillips, and the Rams' recent upswing as winners.
It's difficult seeing Suh's hopes of joining a winning team in Los Angeles come up short, considering the defensive star-power general manager Les Snead added to the already offensive-dominant reigning NFC West Champions. As one of those additions, Suh can now take his defensive stance, look to his left, right, as well as behind him and more likely than not see a fellow All-Pro ready to stop the ball.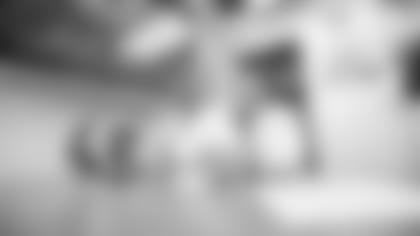 This season Suh will join All-Pro corners Aqib Talib and Marcus Peters, along with 2017 Defensive Player of the Year Aaron Donald. Exciting as this is for Suh and Rams fans alike, he recognizes it will takes a team to live up to expectations this season in L.A.
"I think at the end of the day we've got a lot of talent, but talent means nothing if you're not going to put it together. It's as simple as that," Suh said on Friday.
It's no question that Suh's supporting cast, plus Phillips' defensive schemes, multiplied by head coach Sean McVay's "We not me" mantra equals Suh's best chance at putting a large ring on for the first time in his career come February. Not to mention, No. 93's long term goal of becoming a Hall of Famer.
If Suh does one day have a bust in Canton, he will be joining legendary former defensive tackle Reggie White, who Suh has mentioned is one of his idols.
White, who was also a unanimous All-American in 1983, had an illustrious 15-year football career decorated with 13 Pro-Bowl selections, two Defensive Player of the Year selections, and a final landing spot as second on the all-time sacks list (198).
Similar to Suh, White was in search of Super Bowl glory for much of his career, until finally breaking through in the twilight of his career in 1997 with the Green Bay Packers. White joined that title team as a free agent, just as the Packers experienced newly-found success with quarterback Brett Favre.
Also, as of OTA's, minicamp and now training camp, Suh and the late White have now officially shared coaching instruction from the Phillips, who coached White in Philadelphia as defensive coordinator from 1986 to 1988. Phillips shared one highlight of his time with White on Twitter in 2016.
While a performance like White's 21-sack season would likely be the most unrealistic expectation for Suh in Phillips' defense this season, Suh does expect to enjoy his time under the legendary coach — at any position.
"I think the biggest thing that I am excited about position-wise is being able to play the nose, the tackle and the five-technique — being able to play all of them and being able to use me in every single facet," Suh said.
Wherever he lines up this season, 2018 feels like a fresh start for Suh. He now has teammates, coaches, and a city providing the opportunity for Suh to win as part a team, add to his individual legacy, and have a good time.
Suh perhaps summed up his current career move best while talking about his new head coach.
"[McVay] doesn't care who you are or what you've done in the past or what you plan on doing in the future. He pushes us all to the best of our abilities. At the same time you're going to have fun."