ATLANTA — Veteran cornerback Aqib Talib sat at his podium on Opening Night with a large, shining chain on his neck and a glimmering watch on his wrist — perhaps telling of the defensive back's success in his 11 NFL seasons. Talib is one of the most decorated veterans on the Rams roster and one of just four to have played in the Super Bowl. A five-time Pro Bowler and 2016 first-team All-Pro, Talib brings a lot of shine to the Super Bowl-bound Rams — and he wasn't even wearing his Super Bowl 50 championship ring.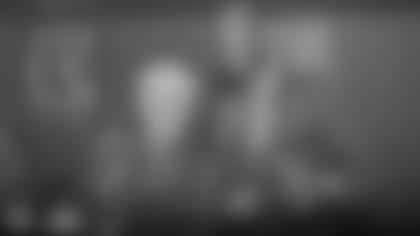 Talib enters his second Super Bowl a proven veteran at one of the game's toughest positions, but with 35-career interceptions, which trails only Raiders veteran defensive back Reggie Nelson among all active players, Talib doesn't seem quite satisfied. The corner is looking for one lost gem — a postseason interception.
"That would be huge, I need it, I need one," Talib said. "I got a bunch of pass breakups, I need a pick though — hard to come by."
Talib's played in 10 postseason games at corner and has never picked off a pass facing elimination — but he's come close. In Denver's 2015 Super Bowl run, Talib broke up two passes in each of his three playoff games — including the AFC Championship game against quarterback Tom Brady and the Patriots.
Talib spoke about the donut in the INT column knowing what it means to make a — now cliché — big-time play in a big-time game. In his final game at the college level, Talib sent the Kansas crowd into a frenzy, taking a first-quarter interception 60 yards, untouched, to the house to put the Jayhawks up 7-0 over Virginia Tech in the 2008 Orange Bowl.
"I remember it was a look that we had a good idea that they were going to do and it was on of those practice plays that you intercepted a couple times in practice, it happened in the game, and it was huge, man," Talib said from the State Farm Arena in Atlanta.
Talib picked off six passes his junior season, five his senior season — two of which he returned for a touchdown — earned All-American honors, got a BCS ring, and was drafted No. 20 overall by Tampa Bay.
But a few months before going pro, Talib felt like one. As the Jayhawks were awarded the bowl of oranges after beating the Hokies 24-21, Talib said in his post-game interview that he couldn't help high-stepping into the end zone and drawing a flag, shouting "I felt like Deion [Sanders]."
Talib's youthful confidence, captured by the 2008 FOX broadcast, has gone nowhere. In fact, the University of Kansas product said that's exactly what it it takes to be a make it as a corner in the NFL.
"I think it takes a lot of confidence, it takes a lot of confidence and intelligence too, because you are going to have to study, have to know some tendencies and things like that," Talib said. "Intelligence, confidence, and be a little athletic too."
The combination he described has shown up in big leagues. Talib is first among all active players with 10 interceptions returned for a touchdown, and fourth all-time.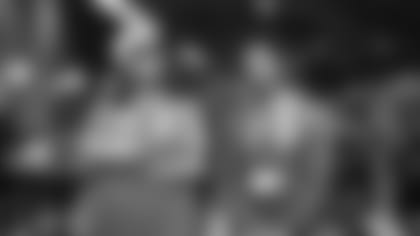 So where does Talib's 2008 championship-game pick six rank in his football career?
"I don't know — it's going to take more than just the time that we got to rank my plays," Talib said, earning some laughs from surrounding media. "I got a lot of plays, bro."
Confident as ever and with "Primetime" himself roaming the media frenzy ahead of Talib's second Super Bowl appearance — 11 years after the college junior likened himself to the Hall of Famer — Talib wrapped up his trip down memory lane in absolute seriousness.
What would it mean to make a play like the one that capped off his college career in the biggest football game of all?
"You make a play like that in a game like this," Talib said, "that's the ultimate dream come true."