At long last, he's back on the field.
Cornerback Aqib Talib was designated to return from injured reserve on Monday, and the five-time Pro Bowler is officially able to practice. Los Angeles held only a walk-thru on Monday — and will do so again on Wednesday. But that represents clear progress for Talib, who has a chance to be on the field when the Rams try to clinch a division title on Sunday against the Lions.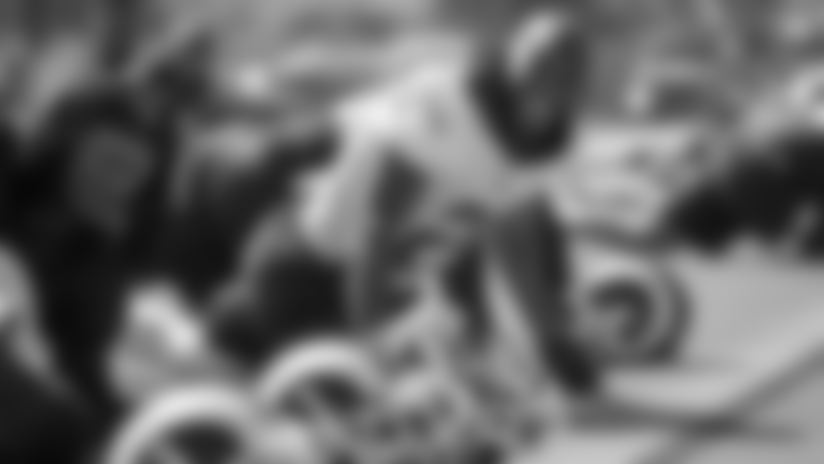 "The first step is getting off IR, right? So I mean, the first step is done. Now I've just got to practice," Talib said Monday. "Hopefully I look good enough so that the coaches can say I can play on Sunday."
"I think we could," head coach Sean McVay said of potentially activating Talib for Week 13. "As far as if he's ready to go, those are things that as the week progresses, we'll figure that out, but that'll be a collaboration of, from the doctors hearing and seeing how Aqib does. I know he's excited and just his presence for our team will be a big benefit to us — having him out on the practice field."
Thursday will likely represent a landmark when it comes to Talib's potential return to game action, as it's the Rams' most strenuous practice day of the week. But that doesn't mean he's solely looking at it that way.
"I mean, I'm gonna just practice," Talib said. 'Everything else is going to be on the training staff and the coaches, you know? I'm gonna just practice, I'll guess they'll do the eye test or whatever to see if I'm a 'go' Sunday or not. But I'm gonna just practice."
The 32-year-old corner said he's feeling good — about as good as possible without actually playing.
"I've been getting real hard workouts lately," Talib said. "But it's nothing like playing in an actual game, you know? So the only way you're going to get ready for a game is playing in them games."
Talib suffered the ankle injury during the Week 3 victory over the Chargers. In three games, the cornerback recorded a pair of passes defensed and a forced fumble, going along with nine total tackles.
While McVay said the Rams have used the opportunity with Talib out to build depth at defensive back, he acknowledged it's difficult to replace a player like that.
"Any time that you lose a player of his caliber, both from a production standpoint and just from a leadership standpoint — certainly you don't replace a guy like that," McVay said. "But he's been around, he's made his presence felt in the meeting room. He's traveled with us to these games."
Talib has often been seen on the sideline supporting his teammates. But being physically between the white lines should give a boost to Los Angeles' secondary.
"I just think he'll put everyone at ease," safety John Johnson said. "He brings that swag to him, he brings that knowledge of the game to him. We came in with him [to start the season], so it's kind of like we were missing something. And him coming back, it'll just be like a security blanket out there."
"He just knows what teams want to do," Johnson said. "He's probably played against every offensive coordinator in the league, or head coach, or some type of combo of all of them. So he just knows how teams want to attack us, and just gives us little tips to combat it."
Talib himself said he feels like his experience and ability to help the communication should aid the unit.
"I think we get our communication in order, we eliminate two, three big plays a game, it'll make us that much better on defense," he said.
"I just think the overall presence that he has on our team is extremely beneficial," McVay said, "and he's one of those guys that I love being around because you learn from him just based on his experience, his knowledge of the game. Any time you talk football with him, you come away and you say, 'Man, he's an impressive guy.'"
The players will be off on Tuesday before getting back to work on a normal Wednesday schedule with meetings and walk-thru.