Throughout the offseason, theRams.com will be taking a look around the internet for the top Rams headlines of the day. Here's a look at what's out there for Friday, February 19 about your Los Angeles Rams.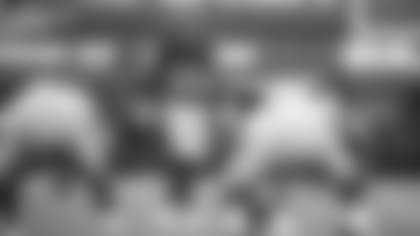 NFL.com hands out grades and rankings for teams' 2020 draft classes
NFL.com original content editor Gennaro Filice and Around the NFL writer Nick Shook have spent the last week-and-a-half grading every team's 2020 rookie class and ranking them 1-32. Felice was tasked with the NFC West and gave the Rams' rookie class a "B," the second-highest in the division behind the 49ers' B+.
Recapping the contributions by each member of the class, Filice highlighted sixth-round steal Jordan Fuller as its "diamond in the rough."
"He gets lost in the shuffle of a very nice safety class that also included Julian Blackmon, Kamren Curl, Jeremy Chinn and Super Bowl champ/Supreme Tyreek Hill Troller Antoine Winfield Jr., but Fuller was a Week 1 starter on the NFL's best defense," Felice wrote as part of his breakdown.
ESPN recaps Rams' 2020 draft class
"McVay said Akers emerged as a 'big-time guy' over the last few weeks and that there are high expectations for him moving forward," Thiry wrote. "In 13 games, Akers rushed for 625 yards and two touchdowns on 145 carries and caught 11 passes for 123 yards and a touchdown."
PFF and ESPN rank 2020 rookie draft classes
In partnership with ESPN, Pro Football Focus ranked the NFL's most productive rookie classes from 1-32 on Jan. 30. The Rams' group was also highly-regarded here, coming in at No. 11.
Like NFL.com, PFF cited Fuller's emergence as the highlight of the class, naming him Los Angeles' best value pick.
"Los Angeles grabbed Ohio State safety Fuller with the 199th pick, and he ended up playing more and better than any of the Rams' other first-year players," PFF college football analyst Anthony Treash wrote as part of his breakdown. "Fuller logged over 700 snaps and ended up finishing as the 16th-most-valuable rookie of the 2020 season, per PFF WAR (wins above replacement)."