We are just three days away from the official start to the 2017 Rams Training Camp presented by AT&T. The rookies will begin unpacking their bags later today, here at the University of California, Irvine and veteran players will be arriving on Friday. 
In the lead up to Saturday's first practice, we took a look at five of the most interesting storylines to look out for during the next few weeks. And with every good storyline comes a few key players. Today, I'm giving you a position-by-position look at the Rams roster heading into training camp. 
Let's start out with the offense:
QUARTERBACKS – 
This should come as no surprise to any of you Rams fans out there—a familiar face will be back at the starting role this year with veteran QB Jared Goff. Throughout the offseason, Goff has committed himself to learning a new system and becoming a vocal leader on the team. Throughout the next few weeks of training camp, look for him to continue mastering the new offensive system and establishing himself as a true veteran leader. 
Dan Orlovsky – The Rams added a third quarterback to their roster last week by agreeing to terms with the former Lions player. In his return to L.A. Orlovsky will reunite with quarterbacks coach, Greg Olson, who previously coached for the Lions in 2005, and will serve as an exciting counterpart to Sean Mannion. 
The Rams offense needs to come alive this training camp if they can hope to rebuild and improve upon their last season. Goff will need to play a key role in reaching towards that goal, providing a needed spark and a strong leadership presence for the offense as a whole.  
WIDE RECEIVERS - 
As you heard from Myles Simmons yesterday, two of the most likely starters at the wide receiver position are Tavon Austin and Robert Woods. Both will enter training camp as the top two in their position, bringing with them both the experience and athletic ability needed to hold down that starting role. 
Robert Woods and Cooper Kupp: The Rams signed the former Buffalo Bills wide out and Los Angeles native in March and are hoping he can complement Austin as a starting receiver. Though his 2016 season was derailed by a knee injury, he did have an impressive rookie season catching 65 passes for just under 700 yards. Rams rookie, Cooper Kupp will be another to watch this training camp after establishing himself as a great route runner and team player this offseason, you just might see him snag that third starting role at wide receiver. 
The biggest question at the wide receiver position comes from the fact that there are currently 11 players listed as wide receivers on the Rams roster. All will be looking to make their mark in front of offensive coordinator Matt LaFleur and head coach Sean McVay during training camp. 
The Rams have plenty of options for Goff this season. Now, it will be up to the 11 players on the roster to prove themselves during training camp and compete for playing time come the regular season. 
RUNNING BACKS – 
Todd Gurley will be back at the starting position this year as the Rams go-to running back. The former Rookie of the Year is set to have a big impact on the field, not only during training camp, but well into the regular season. As he continues to master the new offensive system, fans can look forward to a dynamic Gurley getting back on the field. 
Lance Dunbar comes into 2017 training camp as a new backup for Gurley. The Rams signed the former Dallas Cowboy to replace Benny Cunningham. Dunbar is a dual threat in both the run game and pass game and could be an option at the kickoff return for special teams. Fullback Sam Rogers (FB) is also a key addition to this position group. Rogers comes to the Rams from Virginia Tech where he accounted for 692 yards rushing and 802 yards receiving. 
The Rams averaged only 3.3 yards per carry with just over 1200 rushing yards overall last season. With Gurley at the helm, training camp will provide the space and time for the Rams to hone in on their run game and become a force to be reckoned with this upcoming season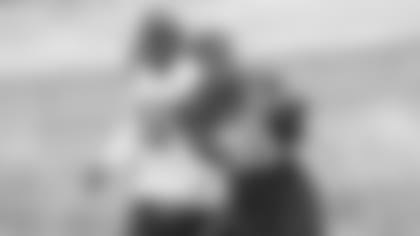 TIGHT ENDS - 
Tyler Higbee and Gerald Everett are the two most likely to start at tight end. Though Higbee was targeted just 29 times last season, catching 11 passes as a rookie, a new offensive system should provide him the space to shine as a second-year TE. Everett will bring his impressive run-after-catch ability and strength to the team, providing a solid counterpart to Higbee. 
Gerald Everett – No need to go over this one again. The Rams highest draft pick will look to make a big contribution to the offense this season. 
One thing is clear: Sean McVay is known for his development of tight ends, with his Redskins' offense producing the most yards in the league at the TE position. He will look to Higbee and Everett to be consistent options on the offense, getting them involved in various schemes on field. 
OFFENSIVE LINEMEN – 
Rodger Saffold (LG), John Sullivan (C), Rob Havenstein (RG), Jamon Brown (RT) and Andrew Whitworth (LT) will be the likely five to hit the field as starters in September. While the offseason brought with it a variety of changes at this position, this group has emerged as a unit who wants to compete and can help each other become better.  
Andrew Whitworth – The Rams added one of the best with this signing. Whitworth was a first-team All Pro selection in 2015 and was graded as the second-best left tackle by Pro Football Focus in 2016. 
Last year the Rams offensive line ranked among the bottom five among all offensive line units in the NFL. But, with a new line coach in Aaron Kromer and a few key changes to the line itself, training camp should be a key indicator to the progress of the offensive unit overall. With a lot of newness in this position, it remains to be seen whether these changes will translate into a successful line come the regular season. 
The offensive line will be chalk full of experience under the big five listed above, but they will need to prove themselves as a cohesive unit if the Rams offense looks to improve as a whole.