On a night when the Rams second and third units could not get much going on the offensive side of the ball, defensive end Ethan Westbrooks certainly made his presence felt, energizing the defense.
Westbrooks, who is not expected to play as a starter in the regular season — assuming defensive end Aaron Donald rejoins the team before games that count — provided a few much-needed plays to slow down Ravens' rookie quarterback Lamar Jackson.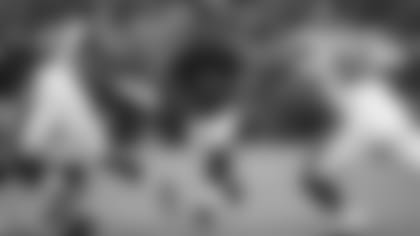 Jackson showed flashes of athletic excellence, entering the game after starter Joe Flacco's opening touchdown drive. On his first possession, Jackson scrambled for a nine-yard touchdown run, dropping Rams tackle Tanzel Smart with a smooth cut-back juke late in the first quarter.
Westbrooks responded nicely, doing everything he could to halt Baltimore's building momentum behind Jackson.
On the first play of the second quarter, Westbrooks shot across the line of scrimmage and wrapped up Jackson's legs, leading to his first sack of the night.
"I thought it's always important to do your best just like in any job. Any time you get on the field, you want to do your best," Westbrooks said of his play Thursday night. "I feel like as long as you're doing your best, you're doing what the coaches ask, it is what it is."
Westbrooks' continued to do his best, getting to Jackson once again during the following Raven's drive. On 3rd-and-5, Jackson, who finished with 119 yards passing and 21 yards rushing, darted up the middle of the field attempting to rush for the first down marker. Jackson's dash fell short at the hand of Westbrooks, who made a nice shoestring tackle just behind the line of scrimmage — a key defensive stop for the Rams.
Over the last four seasons, Westbrooks has carved out a nice spot in L.A.'s defensive line rotation. The former undrafted free agent out of West Texas A&M recorded a career-best 4.0 sacks in 2017, and is expected to be a supporting member of an impressive Rams' front line consisting of defensive linemen Ndamukong Suh, Michael Brockers, and Aaron Donald.