As the Rams have locked up wide receiver Brandin Cooks and running back Todd Gurley with contract extensions in the last couple weeks, there has been one constant fan question in response: What about Aaron Donald?
The 2017 AP Defensive Player of the Year elected to remain absent from Los Angeles' offseason program as the club and his representation negotiated a contract extension. And now that training camp is slated to get under way this week, general manager Les Snead said there's still time for L.A. to reach a solution with Donald before the first practice.
But when asked whether it would be fair to say Donald will be absent for the start of camp, Snead said, "That might be unfair because I really don't know. We're going to continue trying to work to get something done and we'll adjust from there."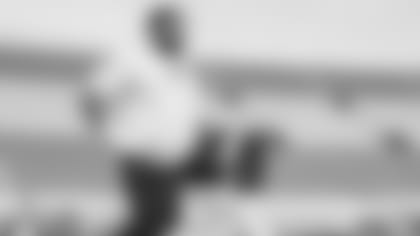 And even with those extensions for Cooks and Gurley, L.A. is focused on keeping Donald in the fold for the long haul.
"We're simultaneously working to make Aaron a Ram a long time — that's the goal," Snead said. "Aaron's a big part of who we are, where we want to go. But I think the details and all of that — I think we're going to continue the course of keeping them in-house. We're going to continue working to get something done with Aaron."
Snead and McVay seem well aware of the public perception regarding Donald and his contract status, with the prevailing fan sentiment being, "Pay the man."
"Probably agree with the fans and that's what we're trying to do. But — I understand this day and age with social media and tweets and all that — but it's a little more complicated than that," Snead said. "Definitely agree with the fans. We want to definitely try to pay Aaron what he's deserved and make him a Ram a long time."
Should Donald elect to not attend the start of training camp, both quarterback Jared Goff and head coach Sean McVay said they're not expecting the situation to become a distraction for the team.
"It wasn't last year," Goff said. "We dealt with it last year, and I wish the best for him. Hope that gets resolved, but they're dealing with it and hopefully it gets resolved soon."
"I don't think it's going to be a distraction because, certainly like Les mentioned, we're constantly working towards finding a solution to make Aaron a Ram for a long time. But in the meantime, we've got to do a great job of, 'Life goes on, camp moves forward,'" McVay said. "It doesn't take away from the respect and appreciation and how much we value Aaron, but we do have a lot of confidence in those guys' ability to step up."
Los Angeles' first training camp practice is scheduled for Thursday afternoon at 3 p.m.