Head coach Sean McVay addressed one of the Rams' major touchpoints ahead of the 2018 season on Tuesday: offensive lineman Jamon Brown's upcoming suspension.
In early July, the league announced that Brown was suspended for the first two games of the regular season for a violating the NFL Policy and Program for Substances of Abuse. Brown is entering the fourth year of his rookie contract with Los Angeles and started all 16 games last season.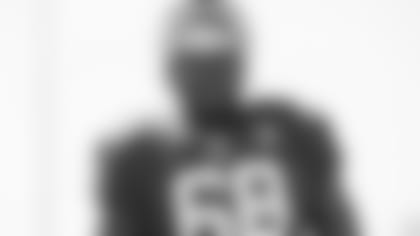 "Yeah, Jamon did a great job last year," McVay said. "This [suspension] was something that we'd kind of known for a while, and to Jamon's credit, which you respect, he took full ownership and accountability for it."
Brown's suspension raises question as to who may start at guard in the season-opener Sept. 10 against Oakland on Monday Night Football, and then again in Week 2 against the Cardinals for the Rams' home-opener.
McVay and run game coordinator/offensive line coach Aaron Kromer have a handful of options to replace Brown. The short list includes last year's backup center Austin Blythe and three rookies: offensive tackle Joe Noteboom, center Brian Allen, and offensive lineman Jamil Demby.
McVay praised Kromer's focus on cross-training offensive line members, creating versatility in the trenches. Entering camp, McVay called the opening in his starting 11 "a great opportunity" for his young linemen.
Noteboom, a TCU product, enters his first NFL training camp offering an array of ability, that could be just what McVay and Kromer are looking for in Brown's absence.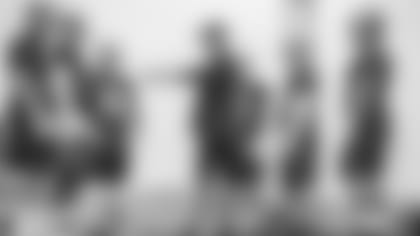 "Joe is kind of one of the rare players that does give you the flexibility to play some guard as well. You kind of draft him as a tackle where he played at TCU, but he's got that athleticism to play some interior spots," McVay said.
The Rams do have options in their third, fourth, and sixth round draft picks. However if the Monday night showdown against Oakland were tomorrow, McVay might side with big-league experience.
"But right now, if we had to play a game, you feel really good about what Austin Blythe has done," McVay said. "But certainly there's a lot of work to be done until we get to that game against Oakland."
Blythe, who appeared in all 16 games last season with the Rams and in eight games with Indianapolis in 2016, will be in the thick of what is one of very few offensive position battles to take place at Rams camp in Irvine.
Jamon Brown is eligible for all practices and pre-season games entering the 2018 season.