ENGLEWOOD, Colo. – The Rams were at the Broncos' training facility Wednesday for the first of two joint practices this week, a session highlighted by wide receiver Cooper Kupp and defensive back Derion Kendrick participating, offensive lineman Logan Bruss being able to practice, defensive back Quentin Lake continuing to make plays, and more.
Here are 10 things that stood out from it: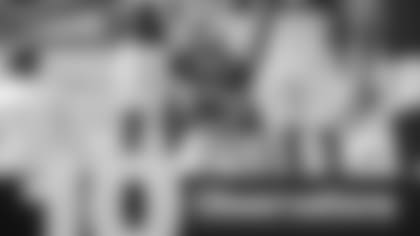 1) Kupp and Kendrick, as expected: As Rams head coach Sean McVay said would be the case, Kupp and Kendrick were out there Wednesday for Day 1 of joint practices with the Broncos. The pair first returned to practice Monday.
"I thought Coop looked great," Rams quarterback Matthew Stafford said after practice. "Just happy to see him running around, smiling, having fun playing ball again."
2) Bruss practices: Considered day-to-day with a lateral ankle sprain sustained last Saturday against the Raiders, Bruss was able to get some snaps in on Wednesday, "which was important," according to Rams head coach Sean McVay.
3) Precautionary approach with Noteboom, Havenstein, Witherspoon: McVay said offensive lineman Joe Noteboom (undisclosed) was limited to some individual drills Wednesday, but that they'll continue to be smart and err on the side of caution with him.
McVay said the Rams also took a precautionary approach by not having offensive lineman Rob Havenstein and defensive back Ahkello Witherspoon (groin) practice Wednesday.
4) Kupp catch: One of Kupp's best catches of the day was a sliding one over the middle on a pass from Stafford during 11-on-11. Kupp going against Broncos cornerback Patrick Surtain II throughout the morning was fun to watch.
5) Threading the needle: Stafford had one player where he fit the ball through the vertically-stretched arms of Broncos outside linebacker Jonathan Cooper – as cooper was bringing pressure – for a completion to wide receiver Puka Nacua. Stafford also had an impressive intermediate touchdown pass to Higbee in 11-on-11 work in which he fit the ball through a tight window for the score.
6) Another impressive touchdown throw: Stafford toward the end of practice connected with Nacua for a touchdown during a 2-minute drill that drew cheers from the Rams offense.
7) Play-making Lake: In what has been a theme throughout training camp, Lake was active again in Wednesday's joint practice. During 11-on-11 work, he had a nice pass breakup on a Wilson pass over the middle intended for tight end Adam Trautman.
8) Scoot says no: Defensive back Robert Rochell had a well-timed pass breakup during 11-on-11 on an attempted short touchdown pass by Broncos quarterback Russell Wilson intended for wide receiver Marvin Mims Jr.
9) More pressures and pass breakups: Outside linebacker Michael Hoecht's pressure and subsequent batting down near the pocket of one of Wilson's passes was one of the highlights of the day.
Rookie outside linebacker Nick Hampton also had a couple nice pressures on Broncos reserve quarterback Jarrett Stidham on back-to-back plays. While Stidham still completed the pass in the face of the second pressure, it forced him to get the ball out quickly.
10) Lots of special teams work: Both teams were able to get a good amount of special teams work in. McVay said the special teams periods were "clean," and that's "exactly what we wanted."