Rookie wide receiver KhaDarel Hodge has come up big for the Rams so far this preseason. Hodge, an undrafted free agent out of Prairie View A&M, has demanded attention in the first two exhibition contests by making a few NFL-caliber plays.
By catching the Rams' only touchdown in Baltimore and making a leaping grab over Raiders' corner Nick Nelson, Hodge has proven that he can make plays on game day — despite being one of the newest faces in the locker room. And head coach Sean McVay has noticed.
"He's just making plays, maximizing his opportunities," McVay said. "He's been a guy that we all know came in late, really, at the very beginning of training camp. Has had a really quick learning curve."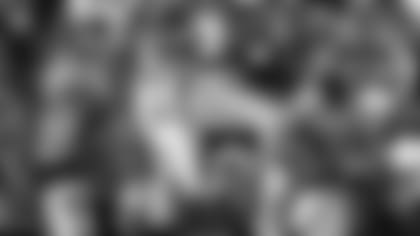 In two preseason games, Hodge has one touchdown and 71 total receiving yards on four receptions.
Hodge recently sat down with therams.com to discuss joining the Rams as an undrafted free agent, the wide receivers corps, his big plays, and more.
SIX QUESTIONS WITH KHADAREL HODGE
What were your expectations going into the draft?
"My expectations were… I was at least hoping to get drafted late. I knew I wasn't an early round guy, coming from a small school. I had a pretty good senior year, but I knew there was a lot of competition out there as far as publicity and everything, so I was waiting by the phone as far as being a late-round guy. But I didn't let that get me down because I kind of got myself prepared to be an undrafted guy."
What was it like being undrafted?
"Being undrafted… I'd say it's equivalent to being a walk-on — like freshman year of college. You know you're not going to get a lot of attention, but you know you have to come out everyday and do your best, and then eventually you will get noticed. Take advantage of every opportunity because you only get so many, and just make plays and stand out."
What was it like when you found out you were coming to the Rams?
"Oh man, it was like a call from God. I can say it was actually a Sunday morning and I had just prayed about it during church. I'm talking about like five minutes out of church I got the call. I'm like, "Seriously?" I really didn't know what to say, I just dropped to my knees and thanked God because I had literally just went up to the altar call and prayed about this."
So this wide receiver corps is pretty deep. You've got some nice veterans you're working alongside. What's it been like working with these guys?
"It's been incredible working with those guys. Robert [Woods] is amazing, Brandin [Cooks] is amazing, Cooper [Kupp], Mike Thomas], Pharoh [Cooper], Fred [Brown], all those guys — Josh [Reynolds] — I learn from all those guys. I look at what they do good and I try to put it in my game. So I try to mix my game with a little bit of those guys' [game] and what they do good and everyday when they make some kind of play I'm like, "Oh I need to put that in my game, and make my game better." So I know it's a competition thing, but I know I can get better learning from them."
So Baltimore wasn't the easiest environment to play in, but you get the only touchdown there. What was that like?
"It was an amazing feeling. I knew I was going to get in late in that game, but I didn't let it frustrate me, so I'm on the sideline waiting my turn. I'm a patient guy, just waiting my turn for the opportunity that was given and when I got in, I knew [quarterback] Brandon [Allen] was going to come to me, I got the guy off inside, and I seen the ball and said, "I know I got to make this play," and I went down to get it. When I caught it — I visualize myself scoring before every game, so I was planning on doing a celebration afterwards. But I was so excited I didn't know what to do, so I just threw the ball up. But I was planning on doing some kind of dance. I just kind of blacked out."
Last one here, what next for you beyond just the preseason?
"I don't really put a limit on my goals, but I expect to work my way up to the top. I really want to be on this 53-man roster and I really want to be in the game rotation and help this team in any way I can. So I kind of put myself at the top, as far as standard-wise, and I know I got to work towards it. It's going to take some time and learning, but I know eventually I will get there — hard work and faith."
Taylor Gilkeson contributed reporting.