The Rams wrapped the 2019 NFL Draft with eight selections, but the offseason onboarding continued through the weekend. On Monday, the team announced its list of 14 undrafted free agents who agreed to terms with the defending NFC Championship club and will hit the practice field in mid-May when as the offseason program gets into full swing.
Here's a look at each college free agent: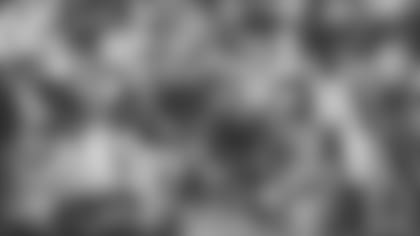 WR Alex Bachman, Wake Forest
The Rams will welcome former Wake Forest wide receiver Alex Bachman to Los Angeles when rookies arrive in Southern California. Bachman played in 32 games and reeled in 82 receptions for 1,162 yards receiving and 10 touchdowns in four seasons at Wake Forest. The undrafted rookie averaged 17.4 yards per catch as junior in 2017.
TE Kendall Blanton, Missouri
Blanton appeared in 10 games as a redshirt senior at Mizzou in 2018 and will add some size to the Rams' tight ends room. The former Tiger stands 6-foot-6 and weighs 265 pounds. He caught a career-high 22 balls for 177 yards and two touchdowns in his final season on campus.
G Chandler Brewer, Middle Tennessee
A First Team All-Conference USA honoree in his senior season at Middle Tennessee State, Brewer was a force on the offensive line freshman through senior year in Murfreesboro, Tenn. Brewer started in 50 games over four years at MTSU, allowing just two sacks in over 450 pass attempts in 2018.
TE Romello Brooker, Houston
Brooker's production bloomed in his final season at the University of Houston. The young tight end pulled in 33 receptions for 409 yards and seven touchdowns as a true senior. Brooker was named the MVP of the Armed Forces Bowl the last time he stepped on the field, when he caught four receptions for 45 yards and a touchdown in the loss against Army.
TE Keenan Brown, Texas State
Brown played just one season as a grad transfer at Texas State in 2018, where he was named a First Team All-American tight end by Pro Football Focus. The former Oklahoma State Cowboy ranked third nationally among all tight ends with 51 receptions for 577 yards and five touchdowns in his final college season.
RB Matthew Colburn, Wake Forest
The Rams will get to work with two new running backs this summer, with the addition of third-round pick Darrell Henderson and former Wake Forest rusher Matthew Colburn. Colburn, 5-foot-10 and 200 pounds, picked up 2,550 yards rushing and 15 touchdowns on the ground in 542 attempts in four seasons.
DT Marquise Copeland, Cincinnati
Copeland could bring a versatile skill set to the Rams offseason program after four years of getting after quarterbacks at Cincinnati as both a defensive end and tackle. In 47-career games, Copeland totaled 187 tackles — 21 for a loss — along with 8.5 sacks, four passes defensed, and two forced fumbles.
LB Landis Durham, Texas A&M
Durham might fit in with the powerful pass rushers in Los Angeles. In his final two seasons as an Aggie, Durham posted 17.5 sacks and 22.5 tackles for loss in 26 games. The Rams new young edge rusher finished a half-sack short of the SEC's top spot in 2018.
G Brandon Hitner, Villanova
Offering experience at both left tackle and guard, Hitner earned a 5.24 mark at the NFL Combine, which grades out to 'an NFL backup or special teams potential.' At his Pro Day, Hitner showed off some athleticism, recording a 32.5-inch vertical jump and 115.5-inch broad jump.
C Vitas Hrynkiewicz, Youngstown State
Hrynkiewicz anchored the offensive line that paved the way for an average of 179.3 yards rushing and 23.1 points per game for the Youngstown State offense in 2018. The young offensive lineman joins Hitner as an athletic big man headed to L.A. Hrynkiewicz ran the 40-yard dash in 5.38 seconds and also eclipsed the 32-inch mark with his vertical.
LB Natrez Patrick, Georgia
Patrick was a four-year contributor in the heart of the SEC as a linebacker at Georgia. He made 160 total tackles, 14 tackles for a loss, and added 2.0 sacks in 40 games with the Bulldogs.
Reeder transferred from Penn State to his home state of Delaware after two seasons and made an immediate impact for the Blue Hens. As a redshirt senior, Reeder posted 88 tackles and 2.5 sacks as the 'Mike' linebacker in Delaware's 3-4 defense.
DT Tyrell Thompson, Tarleton State
In two seasons at Tarleton State, Thompson stuffed the stat sheet with 103 total tackles, 20 tackles for loss, 8.5 sacks, three passes defensed, and three forced fumbles in 24 games played.
WR Nsimba Webster, Eastern Washington
Webster will join fellow Eastern Washington products wide receiver Cooper Kupp and linebacker Samson Ebukam in horns as the offseason program rolls on. Webster had a huge senior year — more than doubling his yards receiving total from the previous season. The wideout finished his final year at EWU with 84 catches for 1,379 yards and 11 touchdowns, averaging 16.4 yards per catch.