A smile breaks across Annie Hong's face as they get asked about their artwork being unveiled a few hours earlier.
Hong is the artist collaborating with the Rams and Hate Is A Virus for the two organizations' exclusive 2022 capsule, and their work is on the merchandise released Monday. As an Asian American raised in Los Angeles, they said the opportunity is a "dream come true."
"This whole project is just this fusion of my love for my love and pride for being an Angeleno and my Asian American background," Hong said.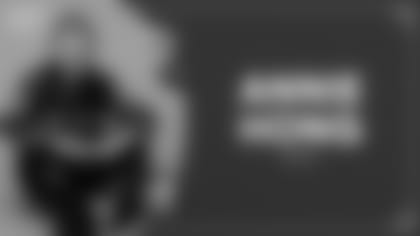 Hong, also known as HOOTNANNIE, is a self-taught visual artist based in L.A. They first showed their work publicly in San Francisco in 2014 and has since had a wide range of experiences in the art realm from group exhibitions, solo shows, and public art projects in the US and abroad.
Their work "can be described as an eclectic blend of pop art infused with bold and vivid colors, patterns, and poetry," according to their website. "Their work often incorporates uplifting, inspirational messages and whimsical wordplay scattered amongst a hypnotizing array of bright colors and playful patterns. They aim to express a familiar sensation of emotions and nostalgia all of us have collectively shared through patterns found in life."
The projects pursued by Hong also incorporate "frequent themes of intersectional feminist, queer and marginalized identities."
Hong's design for this project focuses on Los Angeles – where the Rams and Hate Is A Virus are grounded in – and incorporates a Rams Sol-colored sun as well as Asian-influenced cloud patterns. In many Asian cultures, yellow symbolizes vitality and royalty, while the sun (or circle) is a frequent motif in Asian art.
"The main sensation, the main feeling that I wanted to get across with this capsule is the sense of pride embodied with love and joy," Hong said. "(In) a lot of my work, I try to radiate that joy and this uplifting imagery. And so, as I mentioned before, (with) my love for Los Angeles and my love for being an Asian American, I use the colors that are symbolic of L.A. Rams and created this kind of image that was inspired from imagery and symbols that you find in a lot of traditional Asian American art or different cultures throughout AAPI."
Hate Is A Virus was launched in May 2020 by co-founders Tammy Cho and Michelle Hanabusa in response to racism experienced both recently and while growing up, as well as hate crimes against the Asian American community caused by Coronavirus fears and misinformation. The organization's three main objectives are to raise awareness across their Asian American community and stand in solidarity with those beyond theirs, educate and equip their community with tactical strategies on how to respond to hate and racism, and raise funds for small, Asian-led businesses affected by the COVID-19 pandemic.
Hong said these are heavy but necessary topics to discuss. They hope their uplifting imagery conveys a message of hope and unity.
"I think it's easy to get lost in a sense of hopelessness around these discussions of racism and hatred," Hong said. "For this project in particular, I really wanted to kind of stray away from hopelessness and veer straight towards hope and coming together. I feel like sports is one of those areas where it really bridges the gap between communities and different people from all walks of life. This project is just so special because it allows me to convey that message of solidarity and unity, which, at the end of the day, these are things that we need to combat racism and hatred. Coming together, realizing that we're stronger as as one, as a unified group."