McVay noted that inside linebacker Mark Barron, kicker Greg Zuerlein, and returner JoJo Natson all have a chance to play against the Seahawks this week.
While Barron participated in Los Angeles' walk-thru sessions throughout training camp, he was unable to participate in the vast majority of the club's practices in the first quarter of the regular season. Barron was listed as a limited participant in the final season of Week 4. And now it looks as if he may be able to play against Seattle. 
"We're encouraged. We're looking forward to seeing how he progresses this week. And there's a possibility he could be ready to go. That's something that we're going to evaluate as the week progresses," McVay said. "But this was kind of always a target date that we had set to really get a chance to truly evaluate him, knowing that we had those four games in, really, a short time span. So this week provides an opportunity to evaluate him. And if we can get Mark back on the field, we'll feel good about that." 
Barron was on the field for Monday's practice during the portion open to the media.
Returner JoJo Natson was practicing as well. He's recovering from hand surgery, but McVay said he has a chance to suit up against Seattle. 
"There's a possibility," McVay said. "He had a good surgery. It is on that left hand, so his dominant hand of how he holds the football is with that right [hand]. But we'll see as the week goes with him as well." 
Zuerlein, however, was not spotted on the field for Monday's practice. But the head coach said Zuerlein was able successfully complete a recent workout. 
"I think there's a chance, also, that Greg could be ready to go this week. So that's something that's very encouraging," McVay said. "He had a workout yesterday, did a great job. Like anything else, got a little bit fatigued towards the end. But there is a possibility that Greg could be ready to go." 
"Until you really get a little bit further into the week with Greg, with Mark — those are things that will be evaluated and will certainly affect how we go about our 46 and who's going to be active on gamdday."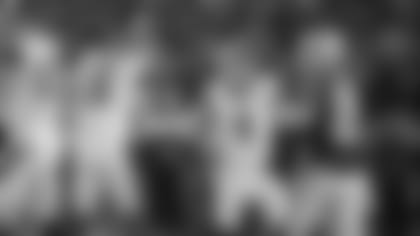 There is some urgency in particular for the club's kicking position. During his conference call last Friday, McVay said the club would have to evaluate that spot. Through two games in Zuerlein's stead, Sam Ficken has missed a pair of field goals — one from 46 yards against the Chargers, and another from just 28-yards out against the Vikings last Thursday. 
"Certainly we've got to be better in that area when we get a chance to go up 13 in a game that's been back and forth. Those are plays that we have to be able to make and make them consistently," McVay said on Friday. "Unfortunately, that hasn't been the case the last couple weeks, but every decision we make is something that we discuss as a staff." 
Ficken has, however, connected on a 34-yard field goal and all 10 of his extra-point attempts. 
Zuerlein converted 4-of-5 field goals and three extra points in Week 1 at Oakland — including a 55-yard field goal off the Oakland Coliseum infield dirt. His 158 points scored led the league in 2017, with 38 field goals and 44 extra points.