Dominique Easley moved to outside linebacker from defensive tackle this season, partially in an effort to mitigate the stress placed on his body. Originally a first-round draft pick back in 2014, Easley has always shown a strong ability to rush the passer but injuries have set him back throughout his professional career. 
After getting through the 2016 season healthy in a rotational role for Los Angeles, Easley suffered another ACL tear early on in training camp in 2017. He was able to make a comeback and started the Rams' first three games of the season. But after feeling knee discomfort during the victory over the Chargers, Easley left the game.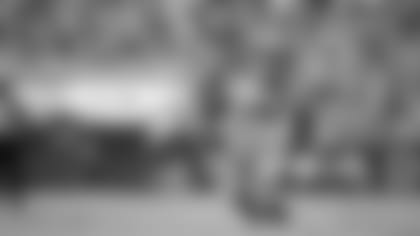 Now, Easley's season is likely over, as head coach Sean McVay said that the outside linebacker underwent surgery on Monday morning on his knee. 
"And this poor guy, I couldn't be more impressed with just the toughness, how resilient he's been fighting through so many different things with this knee," McVay said. "And it's upsetting just because of how many things he's had to go through, and what a great job he's done persevering to even get to the point that he's playing this year. Haven't made the decision yet, but it's likely that we're going to put him on IR." 
In three games, Easley made four tackles and was able to draw a pair of holding penalties on the offense. 
McVay said the Rams will likely use a combination of different players to replace Easley, mainly depending upon different situations. Last week, rookie outside linebacker Trevon Young was active for the first time in Easley's stead — playing only two defensive snaps. Outside linebackers Matt Longacre and Samson Ebukam will likely to continue to take the majority of snaps when L.A. is in its base 3-4 defensive package. But McVay noted that rookies Young, Justin Lawler, and John Franklin-Myers are all possibilities to rush from the edge spot depending on the Rams' defensive package.
"[T]hey've done a really good job on our defensive coaching staff of mixing up that unit, that lineup, and really situationally depending upon who's coming off that edge," McVay said. "But I think it'll be a combination of things. And then, really, until we get into that full game-plan mode, how we supplement that loss is still to be determined." 
"But in Dominique Easley's absence, guys are going to be asked to step up," McVay added. "And you're certainly always looking for big-time production from that outside spot." 
Overall, though, McVay seemed quite disappointed for Easley — who the head coach has continually praised for how he's handled significant adversity. 
"It's tough. And you feel for him. You love him," McVay said. "You appreciate everything that he's done for us and the way that he's fought to get back to even this position and contribute the way that he has."