The day after running back C.J. Anderson took 16 carries for 44 yards, playing 54 percent of offensive snaps in the NFC Championship game, he stood in front of his locker facing the first wave of the influx of Super Bowl media coverage — something Anderson mentioned he's prepared for.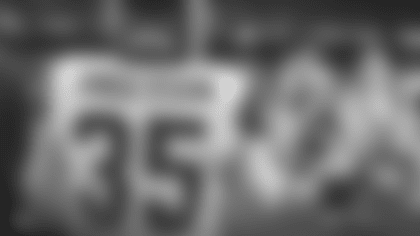 "Yeah, it's my third you know?" Anderson said when asked if he's processed punching his ticket to the Super Bowl. "Don't get me wrong, I'm excited. It feels good to have an AFC Championship and now be an NFC Champion. It's just, you know, another game."
Now 3-0 touting the rock in conference championship games, football's greatest 60 minutes might just feel like 'another game' to the running back. Anderson is 1-1 in two Super Bowl appearances, both as a Denver Bronco. He took just two carries in Denver's loss to the Seahawks in Super Bowl XLVIII and then two years later, posted 100 yards of total offense with a rushing touchdown against the Panthers in Super Bowl 50. 
Now Anderson and his Rams will be up against the New England Patriots and the big game's true regular, quarterback Tom Brady — who is readying for his ninth Super Bowl.
"They are a good football team, they've been good for a very long time and they'll be ready," Anderson said. "Obviously I got history playing him and he's got history playing against me, so it'll be fun, it'll be fun to break them down."
Anderson will prepare for Brady and the Pats in a big-time game for the third time in his six professional seasons. In Week 11 of the 2015 season, Anderson's Broncos beat the Patriots in overtime in front of 76,000 at Mile High in a critical battle for the AFC's top seed. Anderson put up 153 yards from scrimmage with two rushing touchdowns in the game — one of which was the game winner, a 48-yard explosion in overtime. 
In the 2015 AFC title game, Anderson tacked 90-total yards on the Patriots defense, sending his club to its second Super Bowl in three seasons. 
But he's never played the Pats in the biggest game of all, and Anderson says he's ready.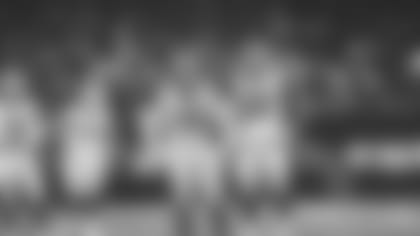 "I've always played them for something significant, whether that's No. 1 seed when I was in Denver or a trip to the Super Bowl," Anderson said. "And I've been on both ends playing against them losing, and also beating them twice for that trip to the Super Bowl, so what better way to finish it off than playing them for the big one?"
Anderson admitted he hasn't had the chance to take a look at the 2018 Patriots in his whirlwind of a season, bouncing between teams before landing happily with the NFC Champion Los Angeles Rams. But the back was likely quick to learn the Patriots defense has let up fewer than 100 yards rushing in five of its last eight games. The unit allowed just 19 yards rushing against running back Melvin Gordon and the Chargers, and 41 yards rushing against the Chiefs in the AFC title game. 
With Super Bowl LIII a little less than two weeks away and plenty of preparation to come, Anderson knows what's going on in Foxborough.
"I know Brady is on it right now and a lot of us are on it right now too so, it'll be fun, it's a good prep," Anderson said before providing his key to victory. 
"At the end of the day it's going to come down to two great football teams. Whoever makes the least mistakes, don't turn over the football — I can promise you they will win the football game."
And if there's one thing you know about Anderson — he's speaking from experience.