Countdown to Camp is a series breaking down the Rams roster by position group heading into the team's first open training camp practice. The fourth installment examines the linebackers.
For more information on Rams Training Camp presented by UNIFY Financial Credit Union, clickhere.To claim your free training camp ticket, click here.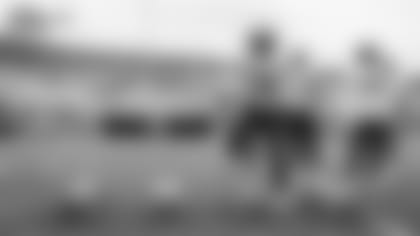 In adopting the strategy they took to engineer a healthier salary cap in the future, the Rams parted ways with linebacker Bobby Wagner and outside linebacker Leonard Floyd earlier this offseason.
Those decisions make both position groups among those making the biggest transitions heading into training camp.
With Wagner gone, Ernest Jones will look to take what he learned from their one-season partnership and apply it as a vocal leader in the middle of the defense. Jones wore the green dot as the on-field defensive signal-caller this spring and should continue to get those opportunities during training camp.
"I really think back to his rookie season when he was out there playing in the preseason and he handled it seamlessly," Morris on May 31 said of Jones' previous green dot experience, referring to 2021 preseason game against the Chargers when Jones called the plays on the Rams' first defensive series due to technical difficulties preventing Morris from relaying the playcalls. "I know you guys remember the first drive we had, he had about a 97-play yard drive. And it was really the only time where there has kind of been a little bit of miscommunication between me and him, and since that point I think he's handled that thing extremely well. I think he's a natural leader. I think he's kind of built for it so to speak, and that's just who he is."
With Floyd gone, the Rams have Michael Hoecht, Daniel Hardy and Keir Thomas left as their most experienced returning edge rushers. There should be strong competition for snaps in that rotation as new outside linebackers coach Joe Coniglio sorts it out, with rookies Byron Young, Nick Hampton and Ochaun Mathis added to the mix.
"I think Joe Coniglio has done an outstanding job in general, really with a lot of those rookies," Rams head coach Sean McVay said on June 13. "Whether it's Byron, Ochaun, you look at Nick, three rookie draft picks from the outside linebacker spot."
Chris Shula, now coaching the linebackers after serving as pass game coordinator/defensive backs coach in 2022, will have a little bit more experience to work with amongst his group. Longtime special-teamer Christian Rozeboom has 26 games under his belt with the Rams – including playing in all 17 games last season – and familiarity with the system, while Jones has started in 18 of 32 games played. A 2022 undrafted free agent signee out of Iowa State, Jake Hummel played in seven games as a rookie before sustaining a season-ending groin injury.