As July continues, we're now just over a week away from rookies reporting to UC Irvine for Rams training camp.
Let's continue our position-by-position look at the Rams with a breakdown of the main pass-catchers on the squad.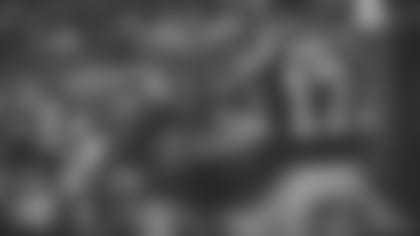 Newcomers: Jalen Greene, Johnathan Lloyd, Nsimba Webster, Alex Bachman
The Rams have finished No. 1 and No. 2 in scoring over the last two seasons, and production from the wide receiver position has certainly been a significant reason why.
In 2018, Robert Woods and Brandin Cooks became the first pair of Rams wide receivers to each eclipse 1,000 yards receiving since Torry Holt and Isaac Bruce accomplished the feat back in 2006. And while it didn't happen, there was a realistic shot Cooper Kupp could've reached 1,000 yards receiving, too, had he stayed healthy through the full season as he racked up 566 yards in eight games.
Those three are once again the expected starters for L.A. heading into the 2019 season. Cooks has been one of the most consistent wide receivers over the last four years, recording at least 65 receptions, 1,000 yards receiving, and five touchdowns while playing with three different teams.
Woods — the oldest wideout on the roster at age 27 — enjoyed a career season in 2018 with 86 receptions for 1,219 yards with six touchdowns. He also had 19 carries for 157 yards and a touchdown, displaying his versatility.
While Kupp tore his ACL last year in Week 10, the team appears optimistic that he'll be ready to return to competition and performance by Week 1 in the regular season. Kupp didn't fully participate in OTAs, but was on the field for many of the club's jog-thru periods — indicating just how far he's come in his recovery. Kupp has been in integral member of the offense over his first two years in the league, perhaps best illustrated by the fact that he finished tied for the team lead with six touchdown receptions — despite missing the back half of the season.
While the Rams have utilized an inordinate amount of 11 personnel with their starting three wide receivers under head coach Sean McVay, things could change given Josh Reynolds' emergence last season. He caught 29 passes for 402 yards with five touchdowns, taking over for Kupp as the third wide receiver in the starting lineup (though Woods played Kupp's actual position, and Reynolds played in Woods' usual spot).
KhaDarel Hodge impressed during training camp and preseason games and ended up making the 53-man roster. He didn't play much on offense, instead making most of his contributions on special teams. But he did make a pair of receptions for 17 yards — both of which came in key moments.
A 2016 sixth-round pick, Mike Thomas has also made most of his contributions on special teams. But he went on injured reserve last year after suffering an ankle injury. He could be an important depth piece. JoJo Natson similarly was mainly a special teams contributor last year as a return specialist, but he has potential to contribute on offense.
Rounding out the group, Austin Proehl — son of former Ram Ricky Proehl — spent much of the 2018 season on the Rams' practice squad. And Los Angeles signed Jalen Greene, Johnathan Lloyd, Nsimba Webster, and Alex Bachman — who grew up minutes away from the practice facility in Thousand Oaks, Calif. — as undrafted free agents.
PREVIOUSLY ON COUNTDOWN TO CAMP
On Wednesday, Countdown to Camp will take a look at Los Angeles' safeties.