Countdown to Camp is a series breaking down the Rams roster by position group heading into the team's first open training camp practice. The fifth installment examines the defensive backs.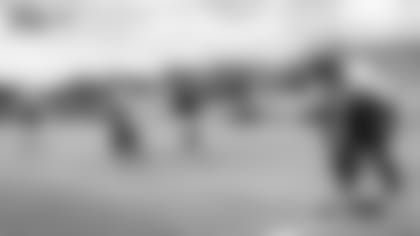 It has been arguably the most important position in the Rams' secondary because of the impact it can have on the defense as a whole. For the last three seasons, the "star" – hybrid nickel defensive back – was manned primarily by Jalen Ramsey, but with Ramsey getting traded to the Miami Dolphins earlier this offseason, Los Angeles will enter training camp seeking a new player to fill the role.
It's a subset of a larger theme of younger defensive backs taking on bigger roles in light of the Rams' approach this offseason to manufacture a healthier salary cap for the future.
Should training camp pick up where minicamp and OTAs left off, the two primary star candidates to get reps and battle for the "star" job are second-year defensive back Cobie Durant and Shaun Jolly, whom the Rams signed off the Browns' practice squad in late September last year. While both don't have the same measurables as Ramsey that made him the prototype for maximizing that position, Rams defensive coordinator Raheem Morris indicated they have the requisite attributes to succeed there.
"It's hard to even mention Jalen, because like he's the prototype for every position," Morris said on May 31, when asked how he views the position after having what is regarded as the prototype for it in Ramsey. "But when you talk about what it is, it's really the increased toughness. It's really the short space quickness, and when you put a guy like Cobie and you put a young Jolly in there, they definitely have those tools and those attributes. They definitely lack the size that Jalen had, which is kind of unique. But those are the things that we look for. Those are things that you look for in just around the league in general. And those guys that we have right now going out to getting those reps are certainly showing those attributes and being able to do some of those things."
Among other players who could take on bigger roles, the departures of David Long Jr. and Troy Hill have second-year cornerback Derion Kendrick in line for an expanded role this year, which makes this an important training camp for him and his development.
At safety, the Rams lost Nick Scott and Taylor Rapp, so finding a new starter alongside Jordan Fuller will be another important item on the to-do list for defensive backs coach/pass game coordinator Aubrey Pleasant, who is back for his second stint on Los Angeles' coaching staff.
L.A. signed former 49ers and Steelers cornerback Ahkello Witherspoon and claimed former Saints defensive back Vincent Gray off waives this offseason, which should make for intriguing competition throughout camp amongst a secondary that also added nine rookies via free agency and the draft this spring.