On Thursday, Patriots longtime head coach Bill Belichick gave his opening statement entering the near-two week marathon of preparation and media coverage that comes along with a trip to the Super Bowl. Belichick said it's no surprise his team will face the Rams in the club's fourth Super Bowl appearance in five years, considering the NFC Champions' body of work this season.
But the future Hall of Fame coach might have been giving comments on the Saints — if it weren't for the third phase of Los Angeles Rams football and an early attempt at capturing some momentum by Rams punter Johnny Hekker — who Belichick called a weapon.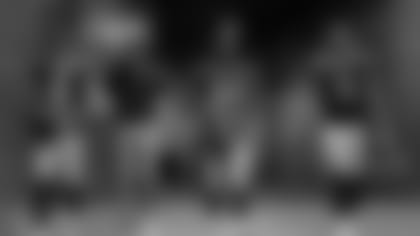 "We came about it on Thursday or Friday and we figured, well, let's take a shot," special teams coordinator John Fassel said after a few days to reflect on the Rams' decision to call a fake punt down 13-0 in a raucous Mercedes-Benz Superdome. On 4th-and-5 from his own 30, Hekker calmy stepped up and fired a spiral to cornerback Sam Shields, who made a move, got the first down, got out of bounds, and gave the Rams their spark.
"All the big decisions get talked about during the week and then if you find yourself in the right situation during the game, it's, 'What do you think? Here we go' — it happens like that," Fassel said with a snap of his fingers.
The split-second moment that caught the Saints punt return unit off-guard and earned recognition from one of the best to coach professional football was the Rams' dedication to three-phase football on display, by one of the team's most respected — and athletic — players.
"He's got a nice, natural stroke," head coach Sean McVay said. "He can make big-time plays. He can do a variety of different things with that athleticism, not exclusive to throwing it, but also being able to run. He's a guy that's been consistently voted — almost unanimously — as a captain by his teammates."
"Every player, every true competitor's desire is to be able to help a team out in any capacity that they can," Hekker told ESPN. "To have coach McVay, coach Fassel, guys that are creative and like to find mismatches all over the field, not just on offense and defense, but let special teams be that attacking factor as well ... we just take pride in it and practice our butts off."
Fassel, who joined the Rams along with Hekker in 2012, said the importance of special teams for this franchise is something that's developed over the years. The energetic, once-interim head coach of the 2016 Rams makes it a point to emphasize how special teams plays can affect the outcome of a football game — and in the Sunday's case, the outcome of an entire season.
Fassel's most-special special teamers did their part in sending the Rams to the Super Bowl. Hekker got things started in Big Easy and kicker Greg Zuerlein ended it. But Hekker didn't do it with his leg, and according to his coach — that's just fine.
"Yeah that was a huge bonus knowing that he's a big, strong, long athlete and that was enticing as well as his punting," Fassel said, thinking back to even before Hekker joined the club. "When he has to punt in practice, it's like 'Yeah alright,' when he gets to go throw pat-and-go with the offense, then he gets all fired up. I said, 'I get it Johnny, you like to throw, you don't like to punt — that's OK.'"
Hekker is 3-for-5 passing this season, including Sunday's championship try — and all three completions moved the chains. The former high school quarterback is 11-of-19 throwing footballs in the big leagues with one touchdown.
But Sunday's completion was the biggest of them all and has his coordinator preparing for one more week of football in uncharted waters for the rising Rams.
"If you would have asked me two years ago that we would be going for our 16th win and playing in the Super Bowl…" Fassel said before a sigh, perhaps signaling the stretch of such a notion. "You know, I believed we were going to get better, but that was pretty fast."