Each weekday, theRams.com will be taking a look around the internet for the top Rams headlines of the day. Here's a look at what's out there for Monday, April 29 about your Los Angeles Rams.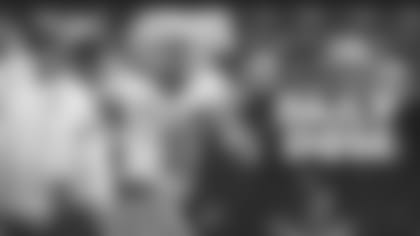 The Rams sit steady at the No. 3 spot in Elliot Harrison's NFL.com post-draft power rankings, but there was some shakeup at the list's top spot. Harrison has the Saints as the league's top team — jumping the Patriots at No. 2 — but the Rams aren't far behind.
Here's what he had to say about the defending NFC Champs following their 2019 draft haul:
"Like the Saints, the Rams were devoid of a first-round pick. Waaaah! This group is ready to return to the Super Bowl, with a little luck. All eyes will be on running back Todd Gurley and his workload come August. Methinks Cooper Kupp's torn ACL last November was downplayed -- or flat overlooked -- in terms of the effect it had on Los Angeles's season and the 2019 ceiling. Facing the likes of Kupp, Robert Woods and Brandin Cooks in practice will only help the game of the Rams' first pick, safety Taylor Rapp. Rapp = a steal late in the second round."
ESPN NFL Nation Reporter Lindsey Thiry says the biggest questions facing the Rams following the 2019 NFL Draft surround the club's decision to take running back Darrell Henderson out of the University of Memphis in the third round.
Henderson found the endzone 44 times in three season at Memphis. Now the question is - How will the young running back fit into head coach Sean McVay's offense?
"Sean McVay said Henderson was the change-of-pace back he has been seeking for the past two seasons and that Henderson will be a complement to Gurley and backup Malcolm Brown. But, naturally, as uncertainty looms around Gurley, it's easy to wonder if Henderson was selected as an insurance policy."
For each team's biggest post-draft question, click here.
Bleacher Report's Derrik Klassen called Henderson one of the steals of the draft, pointing to the back's explosive production and running style, which could pair nicely with the Rams' run scheme.
"Henderson's 8.9 yards-per-carry average was higher than all but nine college quarterbacks' yards per passing attempt last season. While his above-average efficiency helps his case, his class-best explosive-play ability sets him apart. He ripped off a stunning 27 rushes of more than 20 yards in 2018 and tied for second in the country with 22 rushing touchdowns."