THOUSAND OAKS, Calif. – It is possible that cornerback Troy Hill could play Saturday against the 49ers with a cast over his surgically broken right thumb, but his ability to do so will largely depend on his pain tolerance as the condensed week goes on.
If Hill can't go, second-year defensive back Darious Williams is prepared to step up in his place.
"Oh yeah, for sure," Williams said. "Obviously you want Troy to be back. He's one of the leaders, especially in the secondary. But if Troy needs time to heal, that's why I'm here, so I'll be ready."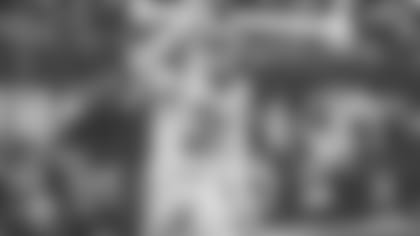 Should that scenario unfold, it would follow the same procedure that Los Angeles went with against Dallas.
Rams head coach Sean McVay said Hill fracture his thumb when he tackled Dallas running back Ezekiel Elliott on a 3rd and 3 with 7:35 left in the first quarter. Hill was replaced by Williams on the next defensive snap, and Williams went on to play 61 of the team's 70 defensive snaps. Williams' snap count and five total tackles he finished with were both season-highs.
Williams initially recorded his first career interception late in the first quarter, only to have it wiped out by offsetting penalties against the Rams and the Cowboys. Despite this, he still ended up with the highest coverage grade of any Rams defensive player against the Cowboys, according to scouting service Pro Football Focus.
"I thought he did a nice job," Rams head coach Sean McVay after Sunday's game. "Really, just in terms of his competes, his toughs, you look at the way that he was able to make some plays. I thought he made a nice play – any time that you get it called back – but it looked like he made a good break on the one that was an interception. But then it ended up getting overruled and you can't do anything about that."
Williams only saw action on special teams in the first game against the 49ers back in Week 6, but he's well aware of the challenges they present heading into Saturday's game.
"They're just a strong team all-around – offense, defense and special teams, they're good," Williams said. "They added Emmanuel Sanders, another key receiver. It's just a solid team, but we're just as good. Just go out there and play our game and the way we're capable of."