With the Rams' star running back Todd Gurley in street clothes Thursday evening for preseason Week 1, the stage was set for rookie running back John Kelly and second-year back Justin Davis. Although the preseason may be yawn-worthy for fans eager to see the L.A.'s first units, the preseason presents opportunities for players like Kelly and Davis to make an impression.
Davis, a University of Southern California product, lined up behind quarterback Sean Mannion for much of the first half. Davis finished his night with seven carries for 41 yards.
Following Thursday night's game, head coach Sean McVay seemed pleased with his backup running backs.
"I think really early on in the game you felt Justin Davis. You see his explosiveness to the second level, he took good care of the football. He's just a cut away from being able to crease a couple of those, but he's an explosive player — kind of that slasher-type runner," McVay said.
On a night where offensive highlights were hard to come by, rookie running back John Kelly made his mark.
Late in the third quarter, quarterback Brandon Allen pitched the ball to Kelly, who exploded out of the backfield toward the right side. Kelly then made a speedy cut-back run across the field, breaking one tackle and taking the ball 40 yards up the left sideline across midfield.
When asked about his longest carry of the night, Kelly credited his upfield blockers.
"Yeah, I cut it back and my man — one of my boys was running down the field, so I helped him get a block — I assisted him on a block. But there was some good blocking up front too. They were able to bust open some lanes for me, so it was a good one," Kelly said.
On the next Rams' drive, Kelly had four carries for 22 yards en route to the only touchdown of the night for McVay's offense, an eight-yard touchdown pass from Allen to receiver KhaDarel Hodge.
Kelly, who was the clear offensive star on Thursday night in Baltimore, finished his night with 13 carries for 77 rushing yards and 91 total yards, all coming in the second half.
Kelly averaged nearly six yards per carry in preseason Week 1, powering his way into gaps in the Ravens defense. After the game, McVay said Kelly's performance was just proof of why they liked the running back in the first place.
"I thought he did a nice job — made some nice cut-back runs — a physical, nice finisher — which are the reasons why we liked him so much coming out of Tennessee," McVay said.
Kelly was selected by the Rams in the sixth round of the 2018 NFL Draft, two rounds later than predicted by NFL.com. At Tennessee, Kelly was slotted behind Saints' running back Alvin Kamara for two years, before rushing for 778 yards and nine touchdowns in his junior season.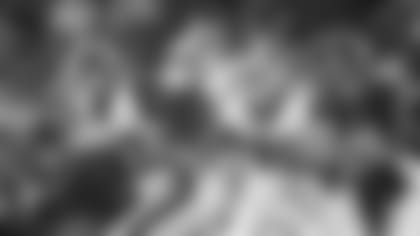 No stranger to supporting elite running backs, Kelly showed Thursday night that he could be a legitimate option in McVay's offense behind the 2017 AP Offensive Player of the Year Todd Gurley.
"I thought it was a good experience," Kelly said of his first game. "It was fun to get the opportunity to get out there and experience the NFL — playing against someone else in an in-game setting. I think it was a good experience for sure."