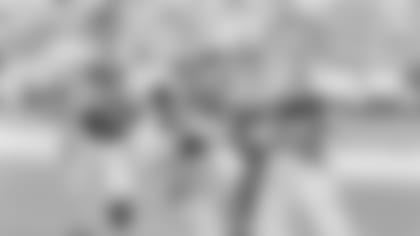 Dickerson, along with 16 other college football greats and two former coaches, were selected from the national ballot of 76 players and five coaches from the Football Bowl Subdivision, the 101 players and 33 coaches from the divisional ranks and the NFF Veterans Committee candidates, according to a press release from the NFF. The 19-member class was formally announced during the noon eastern time edition of SportsCenter on ESPN2 and will be inducted Dec. 8 at the New York Hilton Midtown.
During his four seasons at Southern Methodist University (SMU), Dickerson shattered 12 school records, including single-season rushing yards (1,617 in 1982), career rushing touchdowns (47) and career 100-yard rushing games (28). His 4,450 career rushing yards are still most in school history. Dickerson's best season came in 1982, when he earned unanimous first-team All-American honors and a third place finish for the Heisman Trophy while helping the Mustangs to a No. 2 overall ranking and 11-0-1 record – in addition to setting the school single-season rushing yards record.
Dickerson was chosen second overall by the Rams in the 1983 NFL Draft and enjoyed an 11-year pro career. While with the Rams, he set the NFL's single-season rushing record – 2,105 yards in 1984 – which remains unbroken 36 years later. He was inducted into the Pro Football Hall of Fame in 1999 and remains in the league's top 10 for career rushing yards.