Defensive tackle Aaron Donald has an extensive list of quarterbacks on his sack list.
Aside from Seattle's Russell Wilson — who Donald has sacked 8.0 times, more than anyone else — it includes future Hall of Famers like Peyton Manning and Drew Brees. And far less notable players like Matt Schaub and Tom Savage.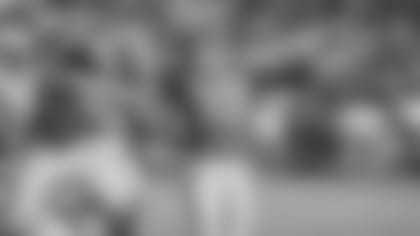 But Donald got to add another top QB to his list on Sunday, sacking Packers signal-caller Aaron Rodgers 2.0 times in the Rams 29-27 victory.
Both sacks came at critical moments in the second half, halting Green Bay drives as Rodgers was looking to engineer touchdown drives. The first came on 3rd-and-2 from the L.A. 26, with Donald beating a guard to bring down Rodgers for a nine-yard loss. The Packers were able to add a field goal, but Donald's sack certainly made it tougher from 53-yards out.
Then in the fourth quarter, Donald was able to enter the backfield nearly unblocked to take down Rodgers for a 10-yard loss with 5:57 left in the contest and force a punt.
"We are out there doing our job, he was holding the ball a little bit, they were doing a great job on the back end with the coverage and that gave us opportunities to sack him and get quarterback hits and pressure on him," Donald said. "When you play a quarterback like that, that's what you need."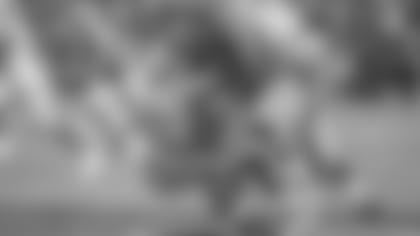 On the second sack in particular, Rodgers saw Donald going and appeared to brace for impact.
"That's never happened before, so I got a freebie," Donald said, smiling. "I'm not even complaining about it."
After eight games, Donald leads the league with 10.0 sacks. That's a terrific number for a season from a D-lineman, let alone eight games. Donald's season career high in sacks is 11.0, which he's reached twice. And the Rams franchise record for a sacks by a defensive tackle is 11.5 — set by D'Marco Farr back in 1995.
As long as Donald stays healthy, a lot of records appear poised to fall as the season continues.
But the most important factor for Donald in this 2018 season is wins. And at the halfway point of the season, L.A. is 8-0.
"Just playing great team football," Donald said for what the Rams have done well this season. "We find ways to win when we need it — from special teams, from defense when we need it, offense is making big plays — whenever you got a team like that, that's hitting on all three cylinders, good things are happening and you just need to keep it up."