INGLEWOOD, Calif. – Although the Rams fell to the Chargers 34-17 on Saturday at SoFi Stadium, the performance of quarterback Stetson Bennett and others provided several noteworthy observations.
Here are five takeaways from the contest: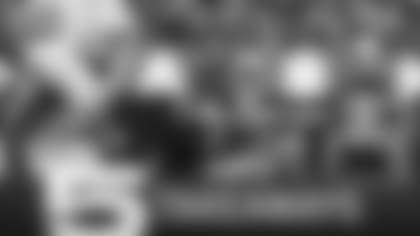 1) Rypien starts, Bennett finishes at quarterback
Brett Rypien got the start at quarterback for the Rams and played the first three series before being replaced by rookie Stetson Bennett.
Rypien finished 3 of 6 for 11 yards across those three series, also rushing once for 6 yards. Bennett had a couple near-interceptions on his first series, but settled in to finish 3 for 7 for 37 yards and one touchdown, connecting with wide receiver Puka Nacua for the 11-yard score that gave the Rams their first points of the night.
Bennett completed 17 of 29 pass attempts for 191 yards and one touchdown overall, finishing out the game at quarterback after taking over on the Rams' fourth offensive series.
2) Extensive time for Rochell, Tomlinson at cornerback
Starting at each of the outside cornerback spots, Robert Rochell and Tre Tomlinson both saw extensive action in the first half. Rochell played three defensive series before being replaced by defensive back Cameron McCutcheon, while Tomlinson played all four defensive series in the first half.
Tomlinson had a strong third-down pass breakup against former college teammate and current Chargers wide receiver Quentin Johnston, and was also in coverage on an incomplete deep ball for Johnston.
3) Bruss sees lots of time at right tackle, Anchrum at right guard
Moved to right tackle in the spring and remaining there throughout training camp, the 2022 third-round draft pick out of Wisconsin played at that position through the third quarter before being replaced by offensive lineman Warren McClendon Jr. later in the fourth quarter.
Tremayne Anchrum Jr. played right guard until being subbed out late in the third quarter.
4) Learning experience for rookie specialists
For two of the Rams' rookie specialists, it was a night of learning – understandable, of course, given it was their first NFL game action.
Punter Ethan Evans averaged 53.2 yards per punt with a long of 62, with two of his six punts landing inside the Chargers' 20 (both fair caught) and another landing in the endzone for a touchback. Two of Evans' punts were returned – the first 81 yards for a touchdown and the second just one yard. The fifth was returned for zero yards.
Kicker Tanner Brown converted on his first extra point attempt, but missed his first field goal attempt – a 46-yarder – wide left. However, he bounced back to make his second – a 39-yard attempt early in the fourth quarter.
Three of Brown's five kickoffs went for touchbacks; one was returned 17 yards and another for zero yards.
5) Nacua shines in first half, Johnson and Trammel in second
Nacua had a promising first half, recording three receptions for 32 yards in addition to the aforementioned touchdown. Those numbers led all Rams receivers at halftime.
Johnson had a big second half with five catches for 70 yards, including a 34-yard catch-and-run over the middle. He also drew a defensive pass interference penalty early in the fourth quarter
Austin Trammel chipped in four catches for 36 yards on the Rams' second scoring drive of the game.