Outside linebacker Dante Fowler Jr. has been through the wringer over the course of his young career.
He detailed it himself during his Monday press conference following Los Angeles' seventh OTA practice of the spring.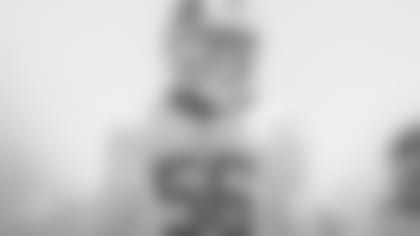 "My first year, I tore my ACL. My second year, I came off [the injury] had like 5.5 sacks — was really kind of finding myself still off the field and things like that, growing. And the next year, felt really good. I still had a lot of things I was fighting against, cleaning up my act," Fowler said. "…So a lot of stuff was going on. But I was able to still have a good season — I had 8.5 sacks. And we went to the playoffs and I had two more sacks, so I felt really good that year. And then the next year — last year — it was a roller coaster, up and down."
Up and down — that probably is the best way to describe e the first few years of Fowler's time in the NFL. After the Jaguars drafted him No. 3 overall in 2015, Fowler entered the league with a lot of promise and potential. But after four seasons, Fowler still feels like he has plenty to prove.
That's part of why he signed a one-year deal with the Rams before the free agency period even began.
That plus the scheme. Fowler noted that he'd been watching defensive coordinator Wade Phillips put players in position to succeed for years, and he was glad to be a part of that in Los Angeles.
And then there's his teammates, who Fowler said welcomed him with open arms when he arrived in L.A. ahead of the Week 9 matchup against the Saints.
All of those things combined to make Fowler want to stay in Los Angeles.
"Well I knew for the first few weeks — really, that first month when I was here — that this was a perfect fit for me, and a perfect team for me," Fowler said. "You know with coach Wade Phillips and his scheme — I was watching his scheme growing up as a kid. And actually when I got drafted, I was a hybrid linebacker-pass rusher. I wasn't used like that in Jacksonville for my first four years."
"And I always knew what I had and all that stuff. I knew what was my best abilities and things like that. And when I got here, it just felt like everything I was asking for — it was like my wishes were being granted. So this is a great place with beautiful people, beautiful workers, and a great coaching staff that I was begging for and I couldn't ask much more from."
"So I'm gonna be honest with you," Fowler continued, "I'm just gonna go out there and bust my tail, try to be the best player I can be on and off the field so I can try to figure out a way to stay here in L.A."
It's an admirable goal for a player who has certainly dealt with his share of challenges as he nears his 25th birthday on Aug. 3. But he appreciates being in a place where he feels like he's a part of a winning culture — somewhere he can really compete for championships.
"[T]he year before I made it to the AFC Championship, I had that taste in my mouth," Fowler said. "Then I got here and we went to the Super Bowl. And just being around winning environments, I did it for two years, and I just don't want to lose. I want to be on a winning team."
"Being able to be with coach McVay in his prime, he's only 30-something — he's going to be here for a very long time. And I'm just fortunate to be around a coach like that who just really loves the game."
But when it comes to that long-term deal, Fowler is taking the same approach as cornerback Marcus Peters laid out last week — if things go the way the Rams expect in 2019, that'll take care of itself.
"[J]ust to be a part of guys like that, and be a part of a team like that, that's really what I want to be part of," Fowler said. "Everything will take care of itself. If I'm willing and fortunate enough to be able to get a contract, sign an extension this year — damn right I will be signing that paper. Other than that, I just want to win, and get back to where we were."