During the lead up to Los Angeles' first game of the season, head coach Sean McVay acknowledged his strategy of not playing quarterback Jared Goff and the rest of the offensive starters in a preseason game "might not be for everybody." 
And that choice may have had something to do with the Rams' first-half offensive performance against Oakland, where Goff completed just 4-of-10 passes for 60 yards — 19 of which came on a quick push-pass to running back Todd Gurley that went for a touchdown.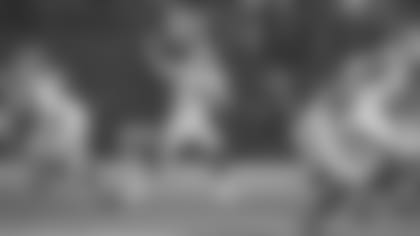 But all's well that ends well, and Goff's final 30 minutes — 14-of-23 passing for 173 yards with an eight-yard touchdown pass to Cooper Kupp — illustrated that he and the rest of Los Angeles' offense just needed a bit of time to get into a rhythm. 
On Wednesday, McVay praised Goff for the way he was able to handle the multiple challenges to put L.A. in position to win. 
"I thought all things considered — with the elements, the noise, the differences in the cadences, the tempos, the variations in terms of some of the motions that we were utilizing — I thought his command was excellent," McVay said. "I thought he played decisive. I thought he did a great job getting in and out of the huddle, commanding it. If you're just watching, you could just see his presence. He had a nice presence and a nice poise and confidence, the way that he played."
Goff also noted that the pass protection was excellent — with the only time he felt like he was hit coming on the second-quarter sack where he perhaps could have let go of the ball sooner. 
"Didn't really notice it until the end of the game. I looked down, I've got nothing on my jersey – they kept me clean. No hits, really, aside from the one where I was scrambling around," . Even just post throw hits – none of that really there. It was all clean all night. I can't say enough about how tremendous they were and how tremendous I expect them to be this year. They've been great." 
If there was any somewhat odd takeaway from Monday's season opener, it's that L.A. had five skill players each receive a target and carry — and no one else. Running backs Todd Gurley and Malcolm Brown along with wideouts Robert Woods, Brandin Cooks, and Cooper Kupp each had at least two receptions and one carry. But no Rams tight end even received a target. 
Each of the three TEs on the roster — Tyler Higbee, Gerald Everett, and Johnny Mundt — were active. And Higbee played 95 percent of the offensive snaps. According to Goff, no targets certainly wasn't the plan, but it is the way things worked out.
"I don't think we go into a week saying we don't want to target somebody or don't want to get the ball to somebody. I think it's just the way the game worked out, the way the flow was going, the way we were calling plays, just the way we just wanted to do things, worked out that way," Goff said. "There were plays that the tight end was an option that just didn't get the ball just based on the coverage, or the look, or whatever it was. Yeah, I don't think we want to make a habit out of that by any means." 
The next chance to do so will come against the Cardinals — the second team in a row the Rams will face with a new coaching staff. This team, however, at least has more familiar personnel given that it's a division rival. Goff specifically pointed out defensive end Chandler Jones and cornerback Patrick Peterson as two of the many impact players on Arizona's defense. 
"They've got some great players. Obviously, the first guy you think of is Patrick Peterson and how great he's been throughout his career — a guy you have to be aware of," Goff said. "Across the board, they're really good. really young, really fast. Smart veteran guys for the most part and do a really good job. It's going to be a challenge for us, a challenge for me and a challenge for our receivers for sure."