When the Rams agreed to terms with QB Jared Goff on a four-year contract extension Tuesday night, it marked the culmination of private discussions that actually began earlier this summer.
On Wednesday, Goff expressed his appreciation for those involved behind the scenes in reaching an agreement and welcomed the increased expectations set to come with it.
"It definitely increases your urgency a little bit when you know that type of commitment, but I don't feel like it will change my process or anything," Goff said. "But, I do understand the responsibility of it and all that stuff that goes with it."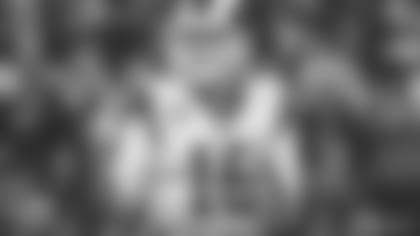 Between past success and investments by the Rams, there is no reason to believe Goff will have any issues handling those raised standards.
He has already proven he can do it, too.
Two weeks before the 2016 NFL Draft, Los Angeles completed a blockbuster trade for the right to draft Goff No. 1 overall. Approximately nine months later, the Rams hired Sean McVay as their head coach.
L.A. has compiled a 24-8 overall record with two trips to the playoffs and a Super Bowl appearance since McVay took over. Goff, meanwhile, has climbed to ninth on the NFL's top 10 passers list with a career passer rating of 94.7 (minimum 1,000 attempts), amassed 9,581 career passing yards with 65 touchdowns and earned Pro Bowl honors twice while becoming the first No. 1 overall pick to lead his team to the Super Bowl in his first three seasons.
It didn't take much for McVay to realize Goff was the QB he wanted to align his future with as he went through the interview process with the Rams, even with the ups and downs Goff endured during his rookie season prior to his arrival.
"When you get a chance to spend a little bit of time with him through the interview process, then you look at the tape, you see all the intangibles, the things that you're looking for – the toughness where he's taking shots, keeping his eyes down the field," McVay said.
McVay's extension, signed earlier this summer, keeps both the franchise quarterback and the head coach under contract through the 2023 season. A look around the league shows why that steadiness, as well as the rapport between both, is so critical for a club.
Patriots QB Tom Brady and head coach Bill Belichick have worked together since 2001, earning trips to the Super Bowl in nine of those 18 seasons. Saints QB Drew Brees and head coach Sean Payton are entering their 14th season together in New Orleans, making it to the playoffs in seven of them – including a Super Bowl XLIV victory.
McVay said it's hard to speak to what that connection has allowed those franchises to do because he's not in either of their buildings every day. However, he does know how valuable that connection is in the Rams' own building and has seen it positively impact Goff's growth and comfort first-hand.
"Hopefully, we're having those conversations where we can be one of those groups that has that kind of continuity," McVay said. "But, you only do that by being able to sustain a level of success, which is easier said than done."
Rams leadership understands the importance of this in ensuring both under are under contract together for the next five seasons, this year included.
Now, Goff is eager to reward their increased faith in him.
"It's something I'll be forever grateful for and forever appreciative of," Goff said. "Hopefully I can return some wins for them and make them happy."