With running back Todd Gurley leading the league in a multitude of categories — including yards rushing (868), yards from scrimmage (1,230), rushing touchdowns (12), total touchdowns (16), and points (102) — there's a reasonable expectation for him to be noticed when he goes out in Los Angeles.
That happened earlier this week, as Gurley was shown on the Jumbotron at Staples Center during the Lakers victory over the Timberwolves.
While the 2017 AP Offensive Player of the Year appreciates getting to see LeBron James — who Gurley called "the greatest basketball player in the land" — live and in person, he at least claimed to be fairly indifferent to his celebrity status.
"It is what it is. I just go to the game, try to see the Lakers, support them," Gurley said. "Obviously, Jimmy [Butler] played yesterday so I wanted to go check him out and support him. But, it is what it is. I don't really be tripping."
OK, so there's that. But Gurley certainly wasn't indifferent when addressing a question about his teammates.
There's certainly more to Los Angeles' offensive success than Gurley running the ball — especially because the Rams rank No. 1 in rushing. Gurley detailed just how the club has been able to get there on Thursday — and it has a lot to do with the team's receivers and tight ends.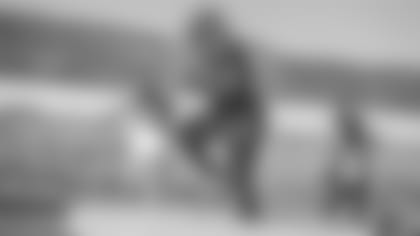 "We all work together. If I don't pass protect for them, then Goff's not going to get the ball off. If the linemen don't protect for me, then I'm not going to do good," Gurley said. "So, that's why you love this game. We all need each other. Not one man can do one job. Those guys have been fantastic. There's a lot of receivers around this league that wouldn't block a soul, but these guys are grinding it out. You see why we're in the position that we're in and being able to score points because of the stuff that Rob [Woods] and [Cooper] Kupp and [Tyler] Higbee, Brandin [Cooks]. All those guys, they go above and beyond just the block and give that extra effort. It makes you want to go out and do the exact same thing for them."
As that teamwork continues, Gurley should also keep progressing in what has already been a remarkable fourth NFL season.