DENVER — It was a banner day for running back Todd Gurley, as he set a career high in yards rushing and became the first Ram to run for over 200 yards since 2001.
Gurley paced the offense from start to finish in Sunday's 23-20 victory over Denver, rushing for 208 yards on 28 carries with a pair of touchdowns. As a team, Los Angeles rushed for 270 yards, averaging 6.9 yards per carry. Gurley's 208 on 28 saw him finish with 7.4 yards per carry.
"He was outstanding today," head coach Sean McVay said after the game, succinctly capturing Gurley's performance. "I didn't realize that he hasn't had over 200 [yards] before. Really happy for Todd and he did an excellent job earning every single one of those yards today."
Giving credit to all his teammates who blocked for him, Gurley said getting so many yards on the ground wasn't as difficult as one might think.
"It means a lot," Gurley said of getting to 200 yards. "Obviously we got the win, but I wouldn't be able to do this without those guys up front, [Robert] Woods, [Cooper] Kupp, [Tyler] Higbee — everybody out there. It was a team effort, everybody did a great job.
"And it was just kind of easy for me, honestly, because those guys did such a great job."
Though the Rams began the game with quarterback Jared Goff firing six passes on the first drive en route to a field goal, Gurley made his presence felt from his first carry on the second. Starting with the ball at Los Angeles' eight-yard line, Gurley took a handoff to the left 21 yards to get the team out of the shadow of its own goal posts. His next carry went for 10 yards, too, signaling what kind of day it was going to be for Denver's defense.
While L.A. ended up scoring a field goal on that drive to take a 6-0 lead, Gurley punched in his first touchdown of the game on the Rams' following drive. He began that one with a 29-yard run, then had a five-yard run, and took a shovel pass 13 yards to the left.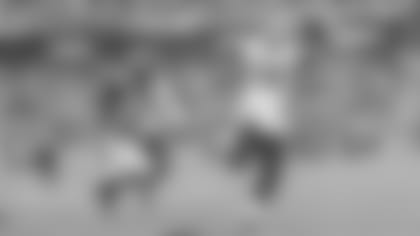 Gurley came out for a couple plays before taking a 3rd-and-2 handoff one yard. That's when McVay decided to go for it on 4th-and-short for the second time in two weeks.
"It was [Gurley] being in the rhythm, players having the confidence again, similar to last week, and you could see that we had great movement at the point of attack, especially on that left side," McVay said. "You could really see [left guard] Rodger Saffold doing a good job getting knocked off, so did [left tackle] Andrew Whitworth — and Todd doing an excellent job just pressing at one gap at a time, really feeling where the space is, and understanding the intent of these plays."
"Obviously it's awesome," right tackle Rob Havenstein said. "It's been pretty advantageous for us to have that confidence behind us and everything like that. It's just awesome."
Taking the fourth-down handoff on to the left side, Gurley had good blocking in front of him and darted 10 yards for a touchdown.
"We just show so many different things on the film, I feel like they were expecting us to something else," Gurley said, noting his initial thought on the run was "get to the sticks" and not necessarily "touchdown." "Coach did such a great job with the play call and we were able to do a little hit outside zone and those guys just open it up and all I had to do was just run."
"It just shows how much confidence [McVay] has in us and I think we've done a good job of instilling that confidence in him that he can call that stuff in fourth-and-short," right guard Austin Blythe said. "So it feels good. It's our job as an offensive line and when it works out like that, it's extra good."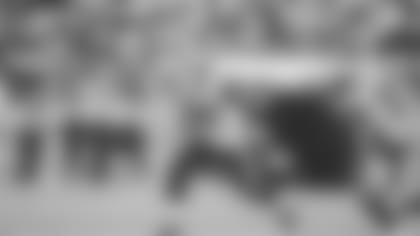 In all, Gurley recorded 58 yards from scrimmage on that particular possession.
But Gurley was impressive all game long, recording four runs of at least 20 yards on the day of 29, 26, 21, and 21. His second touchdown came in the third quarter, after he recorded one of those 21-yard carries by bouncing a 3rd-and-1 handoff to the right to bring L.A. to the two-yard line. After a defensive pass interference penalty in the end zone, Gurley took a handoff one yard to the left to extend Los Angeles' lead and give him the 12th multi-touchdown game of his career.
And on a day where Goff admitted postgame that he would've preferred to be much more accurate — he finished the game 14-of-28 passing for 201 yards and an interception — it means something that the Rams showed they can win in different ways.
"I talked to Todd about kind of in the locker room briefly," Goff said. "There's sometimes where I'll have a big game, and sometimes where he'll have a big game, or sometime Robert Woods, Brandin Cooks, Cooper [Kupp], Malcolm [Brown[ has to step up. And it's great to see guys have to step up and we've relied on to win the game. And today that was Todd. Moving forward, you never know who it might be. But you hope that it kind of switches off as the weeks go on."
Plus, it makes the O-lineman happy when they can guide a running back to 200 yards in a single game.
"As an offensive line, you always want to see good rushing numbers and when you have a back like Todd, it makes out job a little easier," Blythe said. "Then when all five of us are on the same page, I think it makes Todd's job a little easier. I think it goes hand-in-hand and is all meshed together, and we need to keep it rolling that way."
"Huge," Whitworth said. "I think we feel like we can go out there and run the football on anybody. So I think we work hard at it and we believe in it, and I think it's a constant battle, we always want more and more opportunities to go do it, and I think we really feel like this is something that's a part of who we are and that we feel like we can get accomplished each week."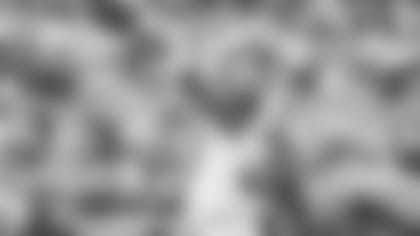 Through six games, Gurley has now recorded 623 yards rushing with 11 total touchdowns — nine rushing, two receiving. That puts him on pace to outdo his 2017 season with 29 total touchdowns and 1,661 yards rushing if you carry his averages out through 16 games — not that those numbers are necessarily probable.
And yet, if you ask his teammates, they're not really surprised at Gurley's dominant performances because it's just what he's consistently done throughout the course of his career.
"He's just doing his job and doing it at a high level and making plays," defensive tackle Aaron Donald said. "That's what he's here for and that's what he's going to continue to do."
"I'm actually surprised that we didn't do that last year or sooner," Woods said of Gurley reaching 200 yards rushing. "He's been running wild ever since I got to this team. It's just a credit to this line, this game plan, and his work ethic. And he's a beast. You know he's doing well when defenders are saying, 'Man, he's getting five yards a touch, five yards a touch.' He's pretty much unstoppable right now.
"That's what happens when we've got TG in the backfield."