On the night the Rams selected right tackle Rob Havenstien back in the second round of the 2015 NFL Draft, general manager Les Snead made a statement. 
"Big Rob — he's ready to play," Snead said. 
Havenstein would prove Snead right, starting the Week 1 contest against the Seahawks. And he's been a staple of the Rams' offensive line ever since as the club's right tackle for the last three years. 
Now Havenstein is slated to anchor the right side of Los Angeles' offensive line through 2022, having signed a four-year extension with the club on Monday afternoon.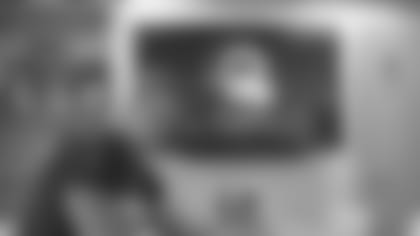 "It feels awesome. It's really a dream. I'm really happy to be a Ram," Havenstein told therams.com just after putting pen to paper. "And I know I'm probably going to say it again, but I just want to thank the Rams organization for everything. Like I said, I'm just really excited to be a Ram." 
"Really happy for Rob. He's earned this," head coach Sean McVay said after Monday's practice. "From Day 1 since we got here, especially with our staff, he's represented one of those things that's right about this organization. A guy that works consistently hard, takes coaching, extremely conscientious. … Really productive player for us. And feel really fortunate to get him under contract for the long term. You can't say enough good things about Rob Havenstein." 
Though he was entering the final year of his rookie contract, Havenstein said that situation wasn't really on his mind with preparation for the 2018 season well underway. 
"That's why I have an agent," he said. "I'm here to play football. So he handled it. He'd call me every now and again, and once that was over, it was back to football." 
But now, Havenstein admits, it is a relief to have it done. 
"It's just back to business as usual," he said.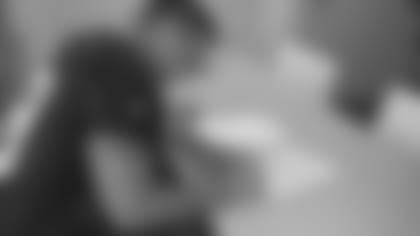 For Havenstein, that means coming to work and continuing to be the consistent presence and player he's always been as a pro. He's certainly improved a lot since arriving to the facility as a rookie, but recalled that it was a point of pride for him to be able to start that first week of the season — just as Snead predicted. 
"Obviously I took a lot of pride in my work, in my film," Havenstein said. "And to be a Day 1 starter was awesome. A little hectic at times, as it's a little different from college. But it was awesome to hear that about myself. But, still at the end of the day, it was about going out and proving someone right." 
In some ways, Havenstein had plenty to prove heading into the 2017 season, too. When L.A. signed free agent left tackle Andrew Whitworth, the initial plan was to bump Havenstein inside to guard with Greg Robinson getting a look at right tackle. Of course, that plan changed — first with fellow 2015 draft pick Jamon Brown taking over at right tackle when the club traded Robinson to Detroit. And then Havenstein and Brown flipped to where they played when they initially came into the league — right tackle, and right guard, respectively. Clearly that change worked, as it's where they lined up for all of 2017 and continue to do so today.
"With a new coaching staff anytime, you're going to have to prove yourself. You're going to have to prove that you belong," Havenstein said. "Luckily, I think I did that."
Veteran offensive lineman Rodger Saffold has seen Havenstein since the right tackle arrived as a rookie, and said on Monday that the Wisconsin product deserves his new deal. Saffold called him "solid, dependable, and accountable." 
"He's always been a guy that's really kept football pretty important in his life, so he's always been able to take care of the little things, which you can't teach," Saffold said. "But the fact that now, with just how much he's grown with this football team, his football I.Q., being able to adjust and use his technique has shown that he's a really good, consistent tackle." 
As Havenstein heads into the fourth regular season of his career, he's glad to know that he's seen as a part of the organization's offensive core. And when the time comes on Sept. 10, he'll once again be ready to play.
"It's awesome. It's awesome to be wanted, and I'm going to be here for a couple years now," Havenstein said. "And I'm just really looking forward to building it one block at a time and seeing where this team can go."