Though Los Angeles played without two of its starting wideouts for the entire second half of the Week 5 victory over the Seahawks, head coach Sean McVay said both Brandin Cooks and Cooper Kupp are progressing well through the concussion protocol. 
"We'll have a little bit more of an update if they're on track to play [later in the week], but everything's good — no set backs, anything like that," McVay said. "And they're progressing in the right direction."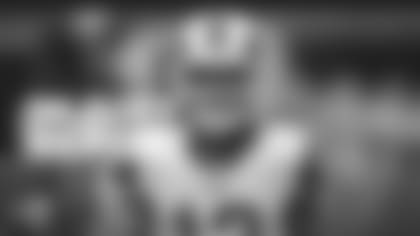 With the way concussion protocol works, the duo was not able to practice on Wednesday. But, both participated in the team's walk-thru earlier in the day. 
"Today's a big mental day for us anyway — we kind of alleviate the physical too on these guys," McVay said. "So, they were able to take part in that part just now." 
Cooks has caught 26 passes for 452 yards with one touchdown so far in 2018. Kupp has made 30 receptions for 438 yards with five receiving touchdowns. 
Should Kupp and Cooks not be able to play on Sunday, McVay said that Josh Reynolds and KhaDarel Hodge would step in for them.
Kicker Greg Zuerlein will likely be out for at least another week as he recovers from his right groin injury. Zuerlein has missed the past four games since suffering the injury during pregame warmups in Week 2. McVay noted the confidence the club has in Cairo Santos means Zuerlein does not have to rush back. 
"I think the biggest thing is, talking to 'Bones,' and even talking to Greg, and as you continue to get more familiar — especially with the history of this injury with regards to kickers — the last thing you want to do is rush them back, where they could potentially have a setback," McVay said, referring to special teams coordinator John Fassel by his nickname. "And the confidence we do have in Cairo enables us to be a little more patient than maybe we would otherwise." 
On the practice field, many of Los Angeles' veteran players received a rest day — including left tackle Andrew Whitworth, defensive tackle Ndamukong Suh, defensive lineman Michael Brockers, and running back Todd Gurley. 
Below are the full Wednesday injury reports for both teams:
WR Brandin Cooks (concussion) 
WR Cooper Kupp (concussion) 
ILB Mark Barron (not injury related) 
DT Michael Brockers (not injury related) 
RB Todd Gurley (not injury related) 
LG Rodger Saffold (not injury related) 
DL Ndamukong Suh (not injury related) 
LT Andrew Whitworth (not injury related)
OT Garrett Bolles (ankle) 
ILB Brandon Marshall (knee) 
WR Courtland Sutton (ankle) 
ILB Todd Davis (shoulder)