All things considered, it's good news.
Head coach Sean McVay said that wide receiver Cooper Kupp will be week-to-week with a knee sprain suffered during Sunday's victory over the Broncos.
Kupp sustained the sprain midway through the second quarter when he took a jet sweep to the right, but was horse-collar tackled. The penalty was called, and Kupp was carted off the field with what looked like a serious injury.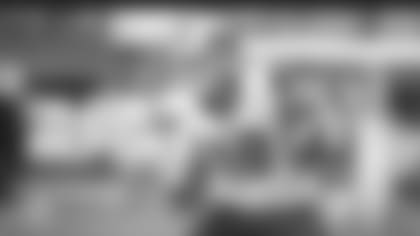 The second-year wide receiver underwent tests in the locker room and played Los Angeles' first offensive series of the second half. But after that, Kupp was held out of the game for precautionary reasons.
"Got a little knee sprain right there, he's going to be week-to-week. Most likely, he probably will miss this week's game," McVay said. "And then depending upon how he responds, it'll just kind of be on a week-to-week basis."
"But that's really fortunate news, when you start thinking the best, and when you just look at the way that play looked."
So far in 2018, Kupp has caught 30 passes for 438 yards with five touchdowns, and has also taken four carries for 25 yards.
McVay said the Rams could bring back a receiver the club has history with for this week, or L.A. may have wide receiver Robert Woods take over Kupp's duties for the full week — as the USC product has done when pressed into duty in each of the last two weeks. Wideout Brandin Cooks could also factor into that decision.
"Those are things that we're still working through when we put the game plan together. Certainly, Robert will take on a role that he might fill some of the voids that are left by Cooper like he's done over the last couple weeks. Brandin's got some position-flexibility as well," McVay said. "And we've got confidence in Josh [Reynolds] and KhaDarel [Hodge]. And then, depending upon what we end up doing — whether you get someone else in here are not — those are things that are going to be predicated on our game plan. But it's a big loss, however you cut it. And guys will be asked to step up, and that's exactly what the expectation will be."
Elsewhere on the injury front, McVay said each of left guard Rodger Saffold (knee sprain), outside linebacker Matt Longacre (back spasms), and defensive lineman Michael Brockers (shoulder sprain) should be able to play against the 49ers in Week 7.
Additionally, McVay said kicker Greg Zuerlein has a chance to return this week. The Rams have missed their All-Pro kicker, to be sure, but McVay complimented Cairo Santos for the way he's filled in over the last two games.
"If he is able to go, we'll be excited to get Greg back. But I think Cairo has done a nice job over the last couple weeks. He's had two game-winning kicks. We won by a couple points last week, you end up winning by three yesterday. And his production has been instrumental in getting those wins, and we're very grateful for what he's done.
"Whenever Greg is ready to come back, how exactly that affects Cairo, can't say specifically — just because of some of the other things that are involved with regards to injuries, the 53[-man roster], the 46[-man gameday roster]. So we're going to work him out this week and we'll see. But he's making steps in the right direction.