When wide receiver Cooper Kupp suffered his knee injury in the first half of Los Angeles' Week 6 victory in Denver, it initially seemed like he would be out for a long period of time.
We now know that's not the case. And on Monday, head coach Sean McVay arguably sounded cautiously optimistic in discussing when the wideout may return to the field.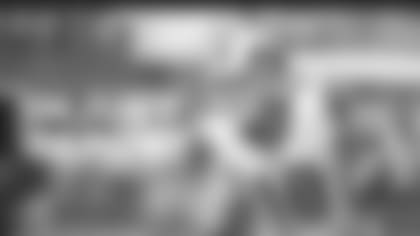 "Cooper's making good progress," McVay said. "Whether it's this week or whether it's another week, hard to say right now. We're just taking it a day at a time with him. But, very positive in terms of just the way that he's responding to some of the rehab. And we'll whether that means he's a go for this week or not."
Kupp has played an integral role in the Rams offense, particularly because L.A. employs three wide receivers on nearly every play. So far in his second professional season, Kupp has caught 30 passes for 438 yards and taken four carries for 25 yards. Kupp's five receiving touchdowns already match his season total from his rookie year.
Los Angeles used a combination of Josh Reynolds and newly-signed Nick Williams to replace Kupp in Sunday's 39-10 victory over the 49ers. Reynolds played 51 snaps (84 percent), and made one reception for 19 yards. And Williams made the most of his 10 snaps (16 percent) catching a pair of passes for 17 yards — one of which moved the chains on a key third down.
"I thought Josh Reynolds did an excellent job stepping up," McVay said, noting Reynolds made the most of his opportunities in competing without the ball. "And then Nick Williams comes in and makes two big catches. The one third down where Jared [Goff] works through a progression and gets to him, makes a nice tight catch in traffic. And then he made a catch on a second down that got us into a 3rd-and-manageable. So he came in and did a nice job understanding what his role would be. How that affects the way that we go into this week is really going to still be predicated on our gameplan, once we get a little more into the Green Bay film and things like that."
The Rams will be back at home this weekend to play the Packers at the Coliseum.