Head coach Sean McVay said on Monday that wide receiver Cooper Kupp has a "very good chance" of returning for this week's game in New Orleans, and that was reflected on Wednesday's injury report.
While L.A. held only a walk-thru on Wednesday, Kupp was estimated to have been a limited participant in the session.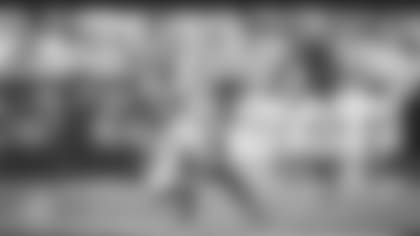 Kupp's teammates are happy to possibly get him back to play New Orleans, with wideout Robert Woods saying Kupp provides, "A big lift."
"It's another weapon coming to attack the field," Woods said. "We know we can go out there and attack with Josh Reynolds as well — all of our weapons. But we've got another weapon coming up. Cooper getting in the lineup, just letting him get back working in the slot, finding his groove, and finding the end zone."
"Whenever someone gets carted off like that, usually it doesn't end up very good. And I think he's recovered very quickly," quarterback Jared Goff said. "We'll see what happens this week. He's progressing well, and it would be exciting to hopefully get him back out there."
On the other side, defensive end Marcus Davenport did not participate in the opening session of the week. NFL Network's Ian Rapoport reported Wednesday morning that Davenport is expected to miss about a month with a toe injury.
"It doesn't change much," McVay said of how Davenport's absence affects L.A. "He's done a really nice job. And he's gotten involved a little bit more of late on some of their first- and second-down stuff. And you can see why they gave up what they did to go get him. He's going to be a special player for a long time.
"But," McVay continued, "[Alex] Okafor is a really good player as well. He's had a lot of success in this league."
Okafor has actually started each of New Orleans' seven games in 2018. He's recorded 19.0 sacks and 24 tackles for loss between his time with the Cardinals and Saints.
Below is the full Wednesday injury report for both teams. Los Angeles' report is an estimate, as
DE Mitchell Loewen (neck)
DE Marcus Davenport (toe)
OT Terron Armstead (knee)
WR Michael Thomas (shoulder)
WR Cameron Meredith (knee)