In his NFL Network appearance on Tuesday, cornerback Aqib Talib said he should be getting back on the field sooner than later.
"I had a great, great visit with the doctor today and it's looking like after Thanksgiving I should be full speed ready to go," Talib told host Lindsay Rhodes. "I'm moving good. I'm running. I'm bounding. I'm jumping. I'm lifting. You gotta get in 100-percent healthy."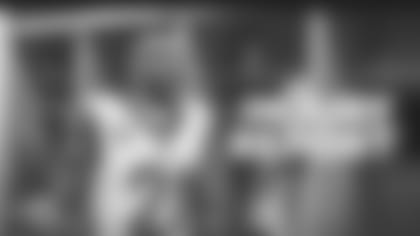 The Rams' first game after their bye week — which falls on Thanksgiving — will be against Detroit on Dec. 2. That's the first game for which Talib will be eligible after going on injured reserve in late September.
On Wednesday, head coach Sean McVay joked a bit when asked about Talib's comments.
"Yeah, that's a vet move right there — Aqib putting a lot of pressure on [head trainer] Reggie Scott and our training staff, so we'll see. If they're as good as they say they are, Aqib should be ready to go," McVay said — tongue in cheek.
But he also noted that Talib is making a lot of progress in his rehab, and the expectation remains that he will be one of the two players the Rams will designate to return from IR.
"I know he wants to be out there as soon as possible," McVay said. "We would want him to be out there as soon as possible. But we're continuing to take it day-to-day. Certainly, he's a guy that we anticipate using one of those designations [to return] on. When that is exactly, I don't know.
"I love the fact that Aqib wants to get back as soon as possible," McVay said, adding with a smirk, "We'll see if Reggie earns his paycheck and he can make that thing happen."
As for the other spot, McVay said on Monday that there isn't a firm update for whether or not All-Pro returner Pharoh Cooper will be the second player designated to return. While Cooper has been progressing in his rehab, McVay noted on Wednesday that the success of punt return JoJo Natson and safety Blake Countess returning kicks does affect when and if Cooper will return.
"Pharoh's a great player for us. But I think when you do look at the position that Pharoh's done an excellent job being a Pro Bowl player at that, you always want to be smart about how you're utilizing those spots when you do only have those two," McVay said. "We love Pharoh, but it does affect it. That's something you do take into account in terms of whether or not that means that we would or wouldn't. We haven't made that decision yet, but I think JoJo — having done a nice job as punt returner — and Blake as a kick returner definitely does affect the conversation you have with regards to Pharoh based on his contributions."
The Rams were remarkably healthy for their actual Wednesday injury report. Los Angeles had only one player listed — running back Todd Gurley — and he would have received a rest day had L.A. gone through a full practice. As they have for much of the season, the Rams held only a walk-thru in lieu of an actual practice on Wednesday.
The Seahawks, however, are much more banged up with several players listed — including starting running back Chris Carson (hip) and starting right guard D.J. Fluker (calf).
Below is the full Wednesday injury report for both teams.
RB Todd Gurley (not injury related)
S Bradley McDougald (knee)
LB Shaquem Griffin (shoulder)
S Cedric Thompson (quadriceps)