While running back Todd Gurley said on Thursday that he feels like he'll be able to play in Sunday's penultimate game of the regular season, head coach Sean McVay said Friday that the running back will likely be a game-time decision for the matchup with the Cardinals.
"We're not going to do anything that isn't smart for Todd," McVay said. "I thought he said it perfectly yesterday. It's a team effort — trusting how he feels, what our doctors say, and what is best for our football team. The one thing that is really good about him, is he's not going to do anything to put himself in harm's way. He knows his body. We're certainly not interested in doing anything of that nature. But we're going to give ourselves about that 48 hours that we do have until we kickoff on Sunday."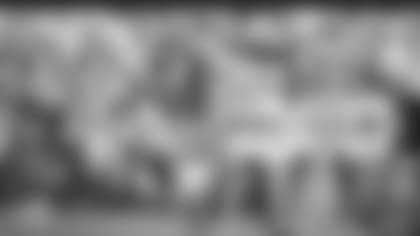 Gurley has been dealing with knee inflammation since last Sunday's loss to the Eagles, and did not practice all week. McVay noted, however, that Gurley has still been around for meetings — so it's not like the Georgia product is entirely behind.
"We've had guys have certain injuries where if you trust that their above-the-neck preparation will put them in a position to be ready to go, but each situation is a little bit different in its own way," McVay said. "The one thing that's unique about this with Todd is that he is such a smart, cerebral player that if he's ready to go physically, then we feel good about that. Because it's not like he's not doing anything — he's just not taking part in some of the physical activities that we do during the week of practice."
Gurley will go through a pregame workout to determine whether or not he'll be able to play. And if he is unable to go, the Rams may look to C.J. Anderson to start, with McVay saying, "That's a possibility."
"We're hopeful that Todd will be ready, but if not, we've got to be able to adjust and adapt," McVay said. "Injuries occur in this league. C.J. has played a lot of good football in this league, rushed for 1,000 yards last year. Been very, very impressed with how quickly he's been able to pick things up rather seamlessly. That gives us the confidence that if he's got to play a large role on Sunday, that he's more than capable and more than ready to do that."
Also at running back, Justin Davis (shoulder) did not practice all week and is questionable for Sunday.
Below is the full list of Friday injury status for both teams. Anyone not listed is expected to play.
RB Justin Davis (shoulder)
OL Will Holden (shoulder)
WR J.J. Nelson (illness/not-injury related)
CB Patrick Peterson (illness)
TE Ricky Seals-Jones (illness)